Be a Hawk Owl Hero: Raise money for your student group AND support NMC!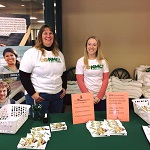 PTK students at HOST BoothIs your NMC student group looking for a way to raise money? Members of your group can volunteer to help the NMC Foundation at select events throughout the school year. In return, the NMC Foundation will reimburse your student group for the amount of time each of your members volunteered.
Note: The reimbursement rate to student groups is currently $10/hour for each volunteer. Your group will be notified of the current reimbursement rate before members of your group commit to an activity.
Hawk Owls Say Thanks (HOST) Booth

Activity includes: explaining a thank you letter writing activity to NMC students and passing out t-shirts.
DATES:

Tuesday, November 7, 11 a.m.–1 p.m. at Hawk Owl Cafe (West Hall)
Wednesday, November 8, 11 a.m.–1 p.m. at Osterlin Library
Wednesday, February 7, 11 a.m.–1 p.m. at Parsons-Stulen
Thursday, February 8, 11 a.m.–1 p.m. at Great Lakes Campus

Annual Fund Phone-a-thon

Activity includes: calling alumni, donors, and friends of NMC and asking them to contribute to the NMC Foundation. No experience necessary! You will be trained to talk about the work of the NMC Foundation, given an easy phone-calling script, and given time to practice before you make phone calls! This is a fantastic way to practice marketing skills, as well as a chance to talk with alumni and donors about their careers. Dinner provided!
DATE:

Thursday, March 15, 5:30–9:30 p.m. at Founders Hall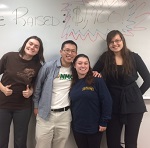 Student Callers March 2017To find out more about being a Hawk Owl Hero or to sign up for one of the events, use the contact form below. Or contact Katharine Zurek, Annual Giving Specialist, at kzurek@nmc.edu or (231) 995-1030.