Join Us for Alumni Networking!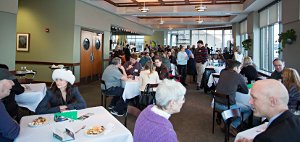 See a photo gallery from the 2017 networking event »The NMC Alumni Relations program is proud to host its Second Annual NMC Alumni Networking Reception from 6–8 p.m. Thursday, March 1 at Lobdell's: A Teaching Restaurant on the Great Lakes Campus. The reception will take place immediately following the annual NMC Career Fair.
The reception is open to all alumni (defined as former NMC students who have earned academic credit) and to current students. Alumni spouses/significant others are also welcome. Attire is business casual. Each alumnus will receive one free drink ticket for selected beverages. Also featured will be a cash bar and heavy appetizers, and door prizes, including a business lunch for four at Lobdell's.
Whether you're an NMC alumnus just starting out in your career, looking to change careers, hiring or simply interested in connecting with fellow alumni within the business community, this reception offers a casual and pleasant evening to build your network.
Registration is encouraged, though not required. RSVP by calling (231) 995-2825 or e-mailing alumni@nmc.edu.