2013 NMC Scholarship Open Sponsors
Tournament Sponsor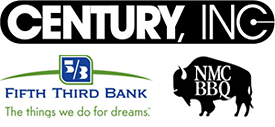 Century Inc.
Major Sponsors
Fifth Third Bank
John and Gloria Lyon
NMC Barbecue Board
Corporate Sponsors
Blue Cross Blue Shield of Michigan
H. Cox & Son Inc.
Fox Motors
WTCM Radio
Affiliate Sponsors
Custer Furnishings
DMO Properties LLC
DTE Energy
Energy Quest
Federico's
Interphase
Jimmy John's
Christine M. Keenan & Family
Laser Printer Technologies
Bill Marsh Family Auto
Miller Pipeline
RECON Intelligence Services
Rehmann
Dudley and Barb Smith
Windemuller Electric
Partner Sponsors
Ballard Benefit Works
Brys Estate
Consolidated Financial Corporation
Cooke Sheet Metal
Grand Traverse Construction
Granola So Good
Honor Bank
Integrity Business Solutions LLC
IPEX
Chad and Kari Kahler
Maple Hill Builders LLC
Moomers Homemade Ice Cream
North Peak Brewing Company
Northwestern Bank
Riske, Brown & Associates
Smith Haughey Rice & Roegge PC
SunTel Services
TBA Credit Union
Thompson Pharmacy and Medical
Associate Sponsors
Bay Supply & Marketing Inc.
Bishop & Heintz PC
Bonek Agency Inc.
Bowers Harbor Vineyards
Calcutt Rogers & Boynton
Canteen Services of N MI Inc.
Cherryland Electric Cooperative
Credit Bureau of Traverse City
Elster Perfection
The Filling Station Microbrewery
First Community Bank
Grand Traverse Area Catholic Schools
Grand Traverse Women's Clinic
Hawthorne Vineyards
Hertler Construction and Restoration Inc.
Jen Tee's Custom Screen Printing
K & D Industries West, Inc.
Jim and Rebecca Kalajian
Ray Kendra Environment Architects
Kuhn, Darling, Boyd and Quandt PLC
Microline Technology Corporation
Peterson McGregor & Associates
ProFile Document Management
Sagemark Consulting
Schmuckal Oil Company
Smith & Johnson  Attorneys
Jacqueline Southby Photography
Traverse City Area Chamber of Commerce
Traverse City State Bank
Traverse Outdoor
Tri-Gas Distributing Company
Wicksall Distributors Inc.
Contributing Sponsors
Alpers Excavating Inc.
American Proficiency Institute
Big Apple Bagels
Bloxsom Roofing & Siding Co.
Warren Cline, CPA ABV
D & W Mechanical
East Traverse Catholic Federal Credit Union
Environmental Solutions Inc.
Ford Insurance Agency
Hubbell Law Office
Inland Seas Engineering Inc
Johnson-Clark Printers
Kuschell Properties
Lautner Irrigation
McCardel Culligan
McJunkin Redman Corp.
David P. Michelin MD, MPH
Netlink Business Solutions
Oryana
Robert S. Portenga DDS
Vincent R. Prusick
Raymond James & Associates
Reynolds-Jonkhoff Funeral Home
Schaub Team Coldwell Banker Schmidt
Strata Design Incorporated
Bart T. Stupak
Svec Construction
Steve and Lori Thomas
Total Electronics Co Inc.
Traverse City Business News
Traverse City Products Inc.
Vanderwal Spratto & Richards PC
Walton Smith Phillips & Dixon
L.E. Williams & Company, P.C.
Sponsorship list through July 16, 2013