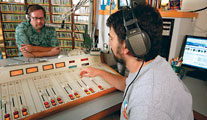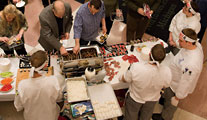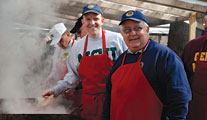 Underwrite, Sponsor and Volunteer at NMC
NMC offers an array of opportunities to get involved, get recognition for your business and support the college.
Underwriting
Underwrite programming on WNMC 90.7 FM Community Radio and increase awareness for your business. WNMC's mission is to provide educational and culturally enriching programming to its northern Michigan service area. Reach thousands of listeners every day while you support this vital community resource.
CONTACT: Station Manager Eric Hines, ehines@nmc.edu, or call (231) 995-2562
Sponsorships
Consider supporting one of many events that raise funds for important programs and services at NMC. The Scholarship Open, for example, has raised more than a million dollars in support of NMC Honors, Presidential and Academic Area Scholarships since 1980. Sponsorships also are available with the Dennos Museum Center, WNMC, and more.
CONTACT: NMC Foundation, foundation@nmc.edu, or call (231) 995-1021
There are dozens of ways to get involved with NMC as a volunteer. Go behind the mic at WNMC, volunteer yourself or as part of a team at the largest annual barbecue around, the NMC Barbecue. Volunteer to be a docent at the Dennos Museum Center, at the museum store or as a gallery guard. Help students find just the right supplies by volunteering at the rush of every new semester at the NMC Bookstore.
CONTACTS:
NMC Barbecue, NMC Public Relations and Marketing, publicrelations@nmc.edu, or call (231) 995-1020
WNMC, Station Manager Eric Hines, ehines@nmc.edu, or call (231) 995-2562
Dennos Museum Center:
Reception or Gallery Guards – Gale Cook, gcook@nmc.edu, or call (231) 995-1595
Docents – Jason Dake, jdake@nmc.edu, or call (231) 995-1029
Museum Store – Terry Tarnow, ttarnow@nmc.edu, or call (231) 995-1587