Giving Tree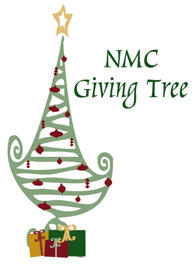 program for NMC and University Center students accepting applications
The NMC Foundation has once again joined forces with the Student Life, Student Financial Services, and Public Relations, Marketing & Communications departments to offer support to NMC and University Center students during the holiday season.
Students: If you are struggling to provide holiday gifts and winter essentials, you may apply for support from the Giving Tree program. Please note that applications must be returned to Founders Hall on Main Campus by October 23, 2015. Applications can be returned in-person, by mail or email. See the Giving Tree Application for details and to apply.
"This is a great way that NMC faculty, staff, and community members can lend a "helping hand" to students who are already working so hard to create a better life for themselves and their families" said Rebecca Teahen, Executive Director of the NMC Foundation.
Applications will be reviewed by committee; only 50 applicants will be selected to participate. Of those selected, faculty, staff, student, and community volunteers will provide gifts for each individual listed on the family application.