Fishers' Gift Will Expand Nursing and Business Scholarships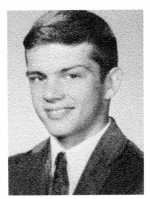 Bill Fisher, NMC's 1961 yearbookThis fall, Bill and Sherry Fisher made an estate gift commitment to expand scholarships for nursing and business students at NMC.
Like you, Bill and Sherry believe in education and want to make it possible for more people to go to college.
When realized, this generous planned gift will increase funding for the William and Sherry Fisher Nursing Scholarship and the Robert and Edna Fisher Business Scholarship, both established by the couple in 2014.
Bill attended NMC in the early '60s, practiced as a psychiatric nurse for many years, and eventually earned a Ph.D. in Health Services Administration. His experiences at NMC and in the nursing field inspired the couple's nursing scholarship.
Bill named the business scholarship for his parents, Bob and Edna, who owned Fisher's Food Market and Beverage Store—a popular grocery store built in 1947 on Eighth Street in Traverse City.
For the past five years, the Fishers' scholarship support has allowed nursing students to become the compassionate, skilled professionals we know and trust. And, it's enabled business students to become the entrepreneurs who create value in our communities.
Thanks to their additional estate gift, Bill and Sherry Fisher will continue making an impact for generations to come.