Just Like You, Kayla Helps Others Succeed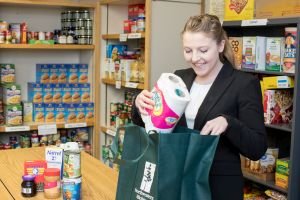 Kayla Otto (NMC '18) volunteers at the NMC Food Pantry

The moment they could, Kayla Otto's family gave back. Kayla (NMC '18) remembers her family, natives of Mesick, volunteering at the Goodwill Inn.
But, they couldn't always give back. There were the years when Kayla's parents both worked and attended classes at NMC, choosing opposite schedules so someone was always home with Kayla and her sister.
Though times were lean for her family, Kayla didn't know it. Her parents created a good home life with an emphasis on education, and made sure their children had everything they needed to succeed in school.
Kayla's mom and dad both graduated from NMC. They've had long and successful careers at RJG, Inc., a plastics company. Her dad is the engineer manager and her mom is the purchasing manager.
As soon as they established their careers, Kayla's parents started giving back to local charities.
"When you live in a small community, you know everyone. You can see where the need is. And you can actually see the impact of giving back," says Kayla.
It's no surprise that Kayla and her sister learned the value of education and of helping others. After high school, they both chose NMC. And they both chose careers that help people.
Kayla's sister is a dental assistant. Kayla is working on her prerequisites with plans to become a physician assistant.
Kayla is paying out of pocket for her education, but she gives back to her NMC peers when she can. This year, she adopted a family as part of the NMC Foundation's Giving Tree program. And, she spends many hours volunteering at the new Student Food Pantry.
"I want an equal opportunity for everyone to achieve higher education," she says. Kayla adds, "In a small community like this, we need to take care of one another."