Your Support Helps Local Mom Return to School, Publish Study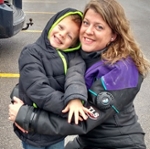 Darla (NMC '17) with her son"It took a long time to take the leap to come back to school, but I'm so glad I did," says Darla Eimers (NMC '17), currently studying anthropology at NMC. Darla, a Traverse City native, put off college after high school. In the spring of 2015, almost two decades after graduating high school, she decided to take her first class at NMC.
Fast forward to today, and Darla has completed five honors classes, earned two scholarships, and had work published by an academic society.
After taking courses in Nautical and Underwater Archeology with Dr. Mark Holley, Darla is hooked on underwater exploration and research. As a class project, she surveyed a shipwreck in Bowers Harbor and conducted research to understand the origins of the wreck.
The product of her research was a monograph, or detailed study with photographs and explanations of evidence, that was published by the Nautical Archaeological Society.
Thanks to your generosity, Darla is able to have these life-changing experiences in the classroom (which sometimes happens to be Grand Traverse Bay). She is the recipient of the Margaret H. Furney Memorial Scholarship for single parents, as well as an Honors Scholarship for her completion of honors projects in select classes.
"I have a small child to take care of so expenses are always in the back of my head," Darla says. "The scholarships mean so much. Any little bit means I can spend money on my son's education. It's a huge help."
Because of you, Darla can focus less on finances and more on balancing her busy life of working full-time, being a mom, and taking classes at NMC. Though her schedule is full, and she often does school work during her lunch breaks at work, it's all worth it to Darla. "I want to be a good example for my son. I want him to understand how important education is," says Darla.
Thanks to your support, Darla is able to pursue her new-found passion of underwater archaeology, and model to her son the professional and personal rewards of lifelong learning.