Manufacturing Leaders Join You in Supporting NMC Students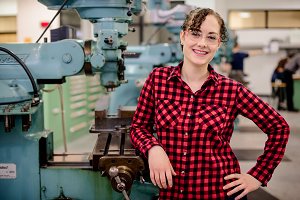 Alexis Nichols (NMC '18) in front of a machining toolAlexis Nichols (NMC '18) is the only woman, and one of just a few high school students, in her Precision Machining Technology classes at NMC. But it doesn't faze her.
Alexis' father and grandfather are machinists, and when the Kalkaska High School student learned about NMC's partnership with Traverse Bay Area Intermediate School District (TBAISD), she jumped at the chance to get an early start on her career.
Because of your support, NMC can build strong partnerships, like this collaboration with TBAISD, to respond to the needs of our students and our community.
Through the partnership, Alexis will complete a fifth year of high school and graduate with a high school diploma and an Associate of Applied Science degree in Machine Technology. With just one year left to completion, Alexis says the classes at NMC have exceeded her expectations.
"My instructors have all worked in the machining industry. There's no fluff in the curriculum—we learn what is applicable to our careers. The networking, connections, and general exposure to the industry is phenomenal," says Alexis.
And, she thinks it's pretty cool that her classes are held in NMC's Parsons-Stulen building. After all, it's named after John Parsons and Frank Stulen, the famed local inventors of numerical control for machine tools, an invention that revolutionized the industry.
Knowing that she has your support and the support of local manufacturing businesses makes Alexis feel grateful. "Thank you for the support," she says. "This is an outstanding program and it's really needed in this area. When I tell other students how great this program is, I can also tell them that the community supports it."