First time abroad vs. well-traveled: How your support impacts students with different travel experiences
June 3, 2019
On a Friday afternoon in March, eleven students gathered in giddy anticipation in the lobby at Cherry Capital Airport. The excitement was palpable—thanks to your support, at 2:01 p.m. they were taking off for an academic study abroad trip to Brazil.
It was a group of students diverse in their majors and travel experiences. There were students studying business, aviation, nursing, and film. One student was about to board a plane for the first time. Another traveled internationally for six months following his high school graduation.
Your support of student scholarships, including Global Opportunities Scholarships, made the study abroad trip possible for every single student.
The group traveled to cities big and small in the state of Minas Gerais. Along the way they learned Brazilian history, practiced Portuguese, cooked traditional foods, and made life-long friendships with their host families.
We want you to meet Brazil participants Natalie, a first-time traveler, and Nick, an experienced traveler, to learn how your support impacted them: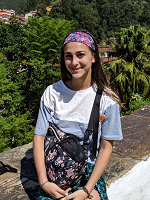 Natalie Thon: First-time traveler
Why Brazil? I've always been interested in other cultures. I work as a housekeeper at Grand Beach Resort, and they've recently hired seasonal workers from other countries. I've made friends from Nigeria and Turkey, and they inspired me to travel abroad.
I've been saving birthday and Christmas money since I was little, and from all of my jobs throughout high school and college. When I learned about the Brazil trip in my World Cultures class, I was finally at a point where I could afford my dream of travel, so I didn't hesitate to sign up.
Favorite moment: Dancing with Brazilians at a Samba club. The music and dancing made me feel connected. I met lifelong friends that night. I still keep in touch with them. We're communicating online and they're helping me learn Portuguese!
Traveling for the first time has given me…confidence. Since I've returned from Brazil, I've been stepping out of my comfort zone. I'm eating more and different foods and learning Portuguese through a few different websites. I'm also connecting in a more meaningful way with my co-workers from other countries.
What's next? I'm working really hard to return to Brazil for an internship. I'm saving money and working with our travel provider in Brazil to secure an internship at an Animal Sanctuary.
---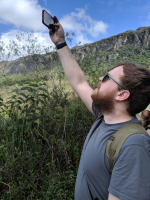 Nick Mulvaine: Experienced traveler
Why Brazil? After high school, I did mission work in Germany, the United Arab Emirates, and India. I'm always looking to expand my horizon and my point of view. When I heard about the trip to Brazil, and especially after hearing about the Global Opportunities Scholarship, I signed up as soon as I could. I really wanted to learn about the country and people of Brazil.
Favorite moment: Unlike my other travel experiences, NMC made sure we saw the real Brazil. We were not shielded from the complicated and sometimes ugly history of the country, including its history of slavery and the present-day consequences like favelas [low-income, unregulated neighborhoods] and the ongoing struggle by some groups for civil rights. Trying on Carnival costumes was a great moment, too.
Traveling to Brazil has given me…the chance to immerse myself in a new culture. You can read about Brazil, but you can't fully learn about it until you go there and bury yourself in it.
What's next? Prior to studying abroad at NMC, I didn't think my travel experiences were something I could put on my resume. NMC faculty have shown me that what I've learned from traveling is valuable to employers—skills like cooperating with people who are different than you. I'm starting to interview for internships and jobs and I'm excited to incorporate the Brazilian experience in my resume.