NMC Student Makes Mark in Local Writing Scene, Thanks to Your Scholarship Support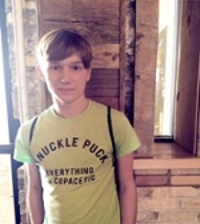 If you haven't already heard the buzz about Liam Strong (NMC '16), it won't be long until news about this up-and-coming creative writer reaches you.
Liam Strong (NMC '16)
Liam is just a few short years into his writing career and already he's been published in multiple journals, including Painted Cave Literary Magazine, Tanka Journal, Haiku Journal, Leaves of Ink, and the local publication Dunes Review. He's also been honored as one of six winners at the Young Playwrights Festival at MSU's Wharton Center for the Performing Arts. This spring, Liam was crowned Audience Favorite at the annual Poets' Night Out at the City Opera House. He's also the recipient of the Scythe Prize for collegiate writers.
He says he owes his early successes to NMC.
"In just a few short years at NMC I've been able to narrow down what I want to do career-wise," he says. "I've met so many people at NMC who are doing what I'm doing, and so many people in the Traverse City writing community."
Liam's NMC story began 5 years ago when he was a dual-enrolled high school student. After high school, he earned an Associate in General Studies Degree, and today he continues to take classes at NMC to fulfill the prerequisites for a Master of Fine Arts.
NMC instructors, like Teresa Scollon and Sarah Wangler, have greatly influenced Liam's writing. "My instructors have made me a more disciplined writer. I'm writing consistently and I'm editing consistently," says Liam.
Liam was the recipient of two Honors Scholarships from the NMC Foundation. One of his Honors program assignments was to join NMC Magazine, a student-run publication, and it's been one of the most rewarding of his NMC experiences. Not only did the Honors Scholarship award lead Liam to the NMC Magazine, it also gave him the financial flexibility to keep taking classes that make him a well-rounded student. "As a writer, I'm inspired by different subjects," he says. "The scholarship has allowed me to take classes in subjects that I really enjoy, like psychology."
To all of the donors and Scholarship Open supporters that make Honors Scholarships possible, Liam says a "gigantic" thank you. "I'm very grateful that you care about our futures and are keeping the whole NMC community alive with fresh classes and great programs."
What's next for Liam? "I'm going to keep making a name for myself," he says. "I'm going to continue writing, making connections, and getting published. I work at the East Bay library and my boss tells me to just 'never stop.' So that's what I'll do."