Because of You, Ariel Can Balance Family, Work, and Nursing School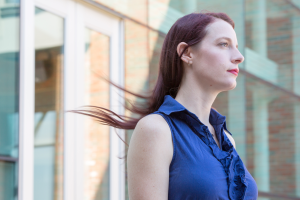 Thank you for supporting NMC student Ariel Haddix ('20)"Firefighters and emergency responders don't get paid a lot—that's not why we do it," says Ariel Haddix (NMC '20).
Along with volunteering as a firefighter and emergency responder, Ariel is the mother of three daughters.
All three of Ariel's daughters were born in hospitals, and those experiences shaped Ariel deeply. "My birthing experiences were so medical for such a natural process. I was disappointed with my own experiences, so I started researching natural birth."
Ariel knows her calling is to be a Certified Nurse Midwife. She's well suited for the job—she's currently an emergency responder, and has worked as a phlebotomist and Certified Nurse Assistant in the past.
Ariel's roots are in Traverse City, so after separating from the military her family moved to Fife Lake to raise their daughters. She knew NMC was the right place to pursue her nursing degree—the school and its nursing program have a strong reputation.
But there were things to consider—like how to balance classes and homework while raising her three girls. And there were costs to consider like childcare, gas for travel to and from Fife Lake, and extra expenses like nursing school uniforms.
Ariel worried she couldn't make it work.
That's when you stepped in. Thanks to your generosity, Ariel earned a merit-based scholarship.
"It was such a happy surprise," Ariel says about receiving the award. "It gives me breathing space."
Because of you, Ariel can balance her family and work responsibilities with nursing school. She's on her way to becoming a Certified Nurse Midwife—continuing her service to others at life's critical moments.