Start to Finish in TC, Thanks to You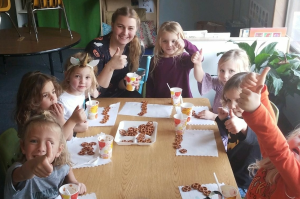 Grace White (NMC '19) with her Kingsley preschool class.Grace White is taking five classes at NMC toward her degree in early childhood development.
She's also completing an internship in infant care as part of her coursework, and working 40 hours a week as a preschool teacher for the Kingsley schools.
Grace is busy. She's also a college student trying to make ends meet.
And yet, at the end of her interview for this article, she was on her way to buy Valentine's Day cards for the kids in her preschool classroom.
She wanted to make sure every student could participate in the celebration.
That's Grace. She's dedicated to her students. "When I see the smiles on their faces, all the stress of being a college student melts away," Grace said.
Right now, Grace is working on her associate degree in early childhood education.
Thanks to your generous support, NMC's academic programs are strong and relevant to students' future careers. "Every single thing I learn at NMC, I use in my preschool class," said Grace.
Grace's dream is to become an occupational therapist in a school system. Thanks to you, she can accomplish her dream right here in Traverse City.
After she earns her degree at NMC, Grace hopes to earn a bachelor's degree in early childhood education and then complete a master's degree in occupational therapy.
Because of your generous support of NMC, Grace can earn these degrees through NMC's partners at the University Center.
Being able to stay in the Traverse City region means the world to Grace. NMC's proximity allows her to live with her parents in South Boardman. She has a close relationship with her family. In fact, her mother's career in education inspired her own.
Grace is thankful that she can save money and have the support of her parents (she often asks her mother for teaching advice) as she prepares to develop the minds and hearts of future generations.