Your Support Helps Student Leader Find Passion, Earn Research Position at University of Michigan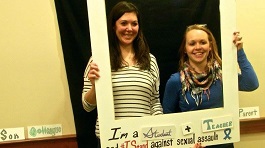 Kia Schwert ((NMC '17) and Rachel Johansen-WilczewskiKia Schwert (NMC '17) wants you to know that when you donate to NMC, you are changing lives. "Choosing NMC has made the difference for me," she says. Thanks to the scholarship Kia was awarded from the sociology department, she is able to pour her energy into her classes, earn a strong GPA, and lead Students United for Gender Rights (SUGR), the student group she founded in the fall of 2015.
Kia, a Traverse City native and the first in her family to attend college, was inspired to start SUGR after learning feminist theory in her sociology classes. She spent many hours outside of class discussing issues of gender, class, race, and other social identities with instructor Rachel Johansen-Wilczewski. These conversations inspired Kia and co-founder Caleb Yorty to start SUGR in order to raise awareness and educate their peers around issues like sexual assault and reproductive health.
The extra time Kia spent outside of the classroom with instructor Rachel Johansen-Wilczewski is illustrative of Kia's NMC experience. "Instructors at NMC really care. They are always willing to help," says Kia. "Through projects and papers in nearly all my classes, my instructors have allowed me to research and explore topics that are important to me."
"In high school I didn't try; I didn't get involved. I always regretted that," says Kia. "NMC has been a do-over for me. If I had gone straight to a university, I wouldn't have gotten involved. I wouldn't have the support system I have at NMC."
Because she was awarded a scholarship through the NMC Foundation, Kia was afforded the time to focus on her studies and become active on campus. Her strong GPA and leadership skills earned her the opportunity to work on a research project this summer through the University of Michigan's Undergraduate Research Opportunity Program. Kia spent 10 weeks living in Ann Arbor and working as a coder on a research project that analyzed university responses to sexual assault on college campuses.
Kia has her sights set on returning to the University of Michigan as a full-time student in the fall of 2017 where she will double major in sociology and women's studies. With her sights set on U of M, Kia knows the extra time her NMC Foundation scholarship has provided her is crucial as she prepares her application. "I wouldn't be where I am today without the support I've received at NMC," says Kia. "The support in the form of my scholarship and from instructors and staff has inspired me to work hard, get involved, and pursue my passion."