Your Support Means Everything to Husband and Wife Attending NMC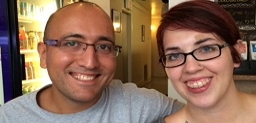 Volkan (NMC '18) and Terra Yildirim (NMC '18)Since saying their marriage vows in 2010, Volkan Yildirim (NMC '18) and Terra (Alaniz) Yildirim (NMC '18) have shared many exciting experiences, including living in Volkan's home country of Turkey for three years. Now, they're on to their next joint adventure: being full-time students at NMC!
Volkan is studying engineering with his sights set on a bachelor's degree in mechanical engineering from Michigan Tech or the University of Michigan. Terra completed the pre-nursing program at NMC last spring, and just began the nursing program this fall. 

Both Volkan and Terra have received scholarships through the NMC Foundation, and it has meant the world to them. "The scholarship gave me relief that I can apply for any internship that will help my education, even if it's unpaid, because part of my tuition is covered by the scholarship. Now, I can get the real-world experience that is essential for my resume," says Volkan.
Terra echoed his appreciation. "The resources and scholarships that we have at NMC makes a huge difference in the level of education we receive here. I want to say thank you to the donors who provide those opportunities for us."
Terra, a Traverse City native, earned an associate degree in general studies from NMC after high school. She met Volkan in 2009 while he participated in a cultural exchange program through his college in Turkey. The program gave him the opportunity to come to Traverse City to work, learn English, and familiarize himself with American culture.
Volkan and Terra moved to Turkey shortly after their marriage. While in Turkey, Volkan worked as a banker and Terra taught English. While they both enjoyed their time in Turkey and the opportunity it gave Terra to learn about Turkish culture, both Volkan and Terra decided they wanted to take their careers in different directions. They wanted to find their passions.
So when they moved back to Traverse City, enrolling at NMC was the obvious choice. "From my first experience at NMC, we knew the classes were small, the instructors were excellent, and the school has a good reputation among community colleges," says Terra. "Even though we had moved away and come back, NMC was still here; it was still affordable and still reliable."
So what's next for the adventurous couple? After they complete their educations at NMC, both Volkan and Terra are determined to transfer and earn bachelor's degrees in their respective fields. Volkan says he won't stop until he earns a master's degree. The couple looks forward to continuing their educations and doing lots more traveling together.