WHAT CAN YOU FIND HERE?
NMC Shipping and Receiving
Did You Know?
It is LEED Certified and the most cost effective space acquisition.
PHOTOS
Explore the APL building further by visiting our photo gallery.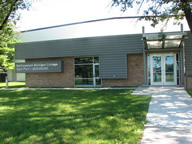 Aero Park Laboratories
Aero Park Laboratory (APL) is NMC's newest building, purchased in Spring 2010. Large, open, and flexible spaces incorporate the HVAC simulation lab, classrooms, student social spaces, computer labs, and offices.
Visit the APL building to experience our new student lounge overlooking the building floor.