What can you find here?
Did you know?
Many College for Kids courses are held here each summer.
PHOTOS
Explore the Parsons-Stulen Building further by visiting our photo gallery.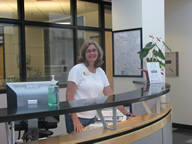 The John T. Parsons & Frank L. Stulen Building
This facility provides and supports training in the areas of manufacturing, construction, aviation and information technology. 
Named after John T. Parsons and Frank L. Stulen, local innovators who created "numerical control," the Parsons-Stulen Building contains a flexible learning environment, including a "high bay" area for construction and manufacturing, plus computer labs, an interactive television classroom, conference room, and faculty and staff offices.