WHat can you find here?
Did you know?
This building was named for James J. Beckett, Chair Emeritus of the NMC Board of Trustees and longtime volunteer on behalf of the college.
Photos
Explore the James J. Beckett Building further by visiting our photo gallery.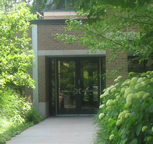 James J. Beckett Building
Several comfortable student areas, two multi-media, one distance learning, and six general purpose classrooms along with a computer lab and faculty offices provide students with numerous ways to learn and engage with others.
The Center for Instructional Excellence library, lounge, and offices along with other conference and work areas ensure faculty are well-equipped and supported.