What can you find here?
Do you know?
It is named for NMC founder Les Biederman, chair of the first Board of Trustees.
Photos
Explore the Les Biederman building futher by visiting our photo gallery.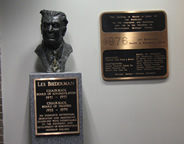 Les Biederman Building
Centrally located, Biederman hosts a wide variety of learning and support services for students and faculty alike. Laboratory and traditional classrooms, a computer lab, the Math Center, simulation rooms, and faculty offices are just part of what can be found here.
Student Health Services, small and large study spaces, and our Public Relations & Marketing department also reside here.