What can you find here?
Did you know?
The NMC BBQ started in 1956 is one of the NMC Foundation's many annual events.
Photos
Explore Founders Hall further by visiting our photo gallery.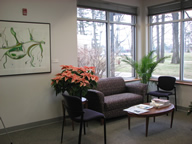 Founders Hall
Large conference rooms are frequently used for special events and professional development opportunities, including monthly Friday Forums for faculty.
The NMC Foundation and the Office of Research, Planning & Effectiveness (ORPE) are located here.