What can you find here?
Did you know?
It is surrounded by nature, which includes thousands of trilliums protected by blankets of poison ivy.
Photos
Explore the Olsen Center further by visiting our photo gallery.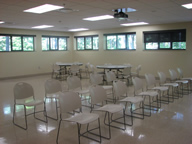 Oleson Center for Continuing Education
Completed in 1978, the Oleson Center was named in honor of the Gerald and Frances Oleson family which has provided long-term support of the college through the annual NMC Barbecue and other donations.
This conference center, remodeled in 2006, features three meeting rooms which can be used separately or as one large room, along with a teaching kitchen and a multi-purpose room.