NMC Employee Wellness Monthly Mini Challenge
February 2016
Wellness Works! - Hobbies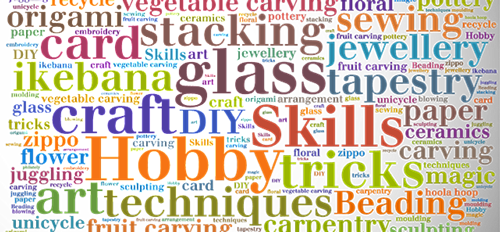 The dark days of February are a perfect time to channel your creative juices and develop a hobby. Hobbies let you explore interests outside of your line of work. They let you be creative and try all kinds of new things. If you are bored with an old hobby, pick a different one. Don't forget to factor in cost. Some hobbies are more expensive than others.
WHAT IS A HOBBY?
A hobby is any activity you enjoy doing for fun, either alone or with a group. Hobbies are a great way relieve stress and meet new people. If you don't already have a hobby browsing crafts stores, sporting goods stores, book stores and music stores may ignite a spark. Look around and see what captures your attention. Maybe you are drawn to cookbooks or scrapbooking. Need help? Follow these steps to pick a hobby that fits your personality and interests:
LOOK AT WHAT INTERESTS YOU
What takes up your spare time, when you have it? Do you enjoy reading books? Maybe you want to try your hand at writing them. Do you like a cold beer at the end of the day? Maybe your hobby could be trying to brew beer at home. Turn what you already love into a hobby.
THINK ABOUT WHAT YOU VALUE MOST
What traits do you prize? Do you value wisdom or courage? Do you feel drawn to people who give back? Do you admire artistic expression? Let those traits guide you when choosing a hobby. For instance, maybe you could volunteer at a library as a hobby because you value education, or maybe you could take up painting because you admire people who can express themselves with art.
EXAMINE YOUR SKILLS AND PERSONALITY
Certain hobbies require certain skill sets. If you don't have a great deal of patience, then maybe hand sewing isn't something you'd enjoy. However, if you love tinkering and building things, maybe you should consider a hobby like working on older cars or building furniture. Play to your strengths.
PAY ATTENTION TO WHAT EXCITES YOUR PASSION
The way you talk about issues can also reveal your passions and those passions can be developed into a hobby. Think about the topics you go on endlessly about. Ask your friends and family what you seem to talk about the most. Now, think about what it is about that subject that you enjoy so much and determine how it can be transformed into a hobby. For instance, maybe you are passionate about local politics, and getting involved at a grassroots level could become your hobby.

STILL NOT SURE WHICH HOBBY WOULD BE BEST?
Visit the Lifehack website for 10 inexpensive hobby ideas
February 2016 Challenge
Getting adequate sleep is an important step to combat serious health issues. Commit to get at least 7 to 8 hours of sleep each night during the month of February (and beyond). Keep track of the number of days you were able to reach your sleep goal and submit the total to Human Resources at hr@nmc.edu by 3/4/16. The person with the highest total will win a gift card. All other submissions will be entered in a random drawing. Sweet dreams!