NMC Employee Wellness Monthly Mini Challenge
November 2015
Wellness Works! -  healthy Fall recipes
Nothing tastes better on a crisp fall day then a hardy bowl of soup and a thick slice of crunchy bread. Unfortunately, the most popular soups are loaded with more than taste. Some have a high fat content in the form of cream and butter. Below are recipes that transform a few fall favorites into tasty heart healthy meals. Add the bounty of local fall vegetables and you have the perfect ingredients.
Can it get better than that? Sure, if you share a meal with someone else. Spend time with those special people in your life and giving thanks for all you have this November.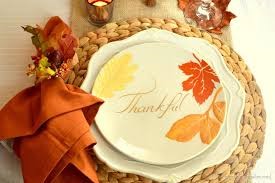 CHILI – the perfect tailgate companion and ultimate left-over dish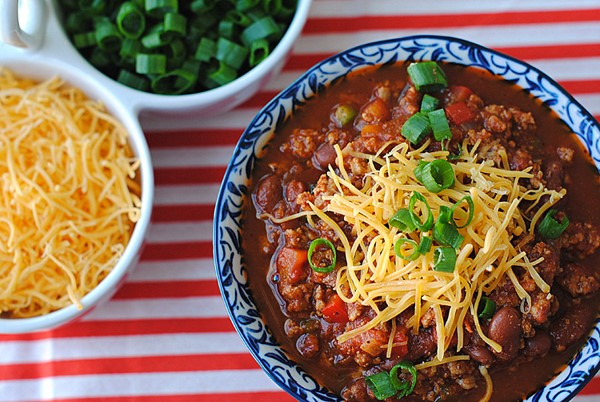 Ingredients:
2 lbs 99% fat-free ground turkey
1 yellow onion, chopped
5 cloves garlic, minced
1 Tbsp olive oil
1 (28 oz) can crushed tomatoes, no-salt added
1 (15 oz) can petite diced tomatoes, no-salt added
3 Tbsp tomato paste
1/2 tsp. hot sauce
1 (15 oz) can kidney beans, no-salt added, drained and rinsed
1 red bell pepper, chopped
1 green bell pepper, chopped
2 jalapenos, chopped
1 1/2 tsp. sea salt
Pinch of pepper
1 packet Stevia
3 Tbsp chili powder
2 tsp. oregano
1/8 tsp. cayenne pepper
NOTE: Add 1 or 2 peeled and chopped sweet potatoes for added beta-carotene
Instructions:
Drizzle olive oil in a large pot and saute onion and garlic until fragrant, about 3 minutes. Add ground turkey and cook until crumbled and brown, draining excess liquid as necessary. Add all the rest of the ingredients and cook on medium/low heat for about an hour. Enjoy!
Nutritional Information:
Serving Size: 1 cup • Calories: 264 • Fat: 2.5 g • Carbs: 19.2 g • Fiber: 5.8 g • Protein: 39.7 g • WW Points+: 6 pts –
More recipes at: http://www.eat-yourself-skinny.com/
CREAMY MACARONI AND CHEESE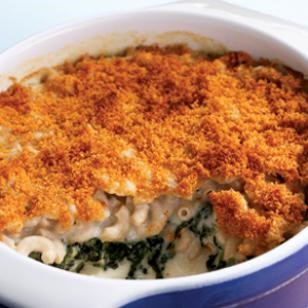 Here's how it stacks up nutritionally:
Cut calories by 43%
Cut total fat by 66%
 Cut saturated fat by 68%
 Added folate and fiber
How We Did It:
Add spinach to increase nutrients.
Low-fat milk replaces whole milk to cut down on fat and calories.
Use whole-wheat pasta instead of refined white pasta to boost fiber.
Replace some of the regular (full-fat) cheese with low-fat cottage cheese, which has great creamy texture.
Ingredients:
3 tablespoons plain dry breadcrumbs, (see Tip)
1 teaspoon extra-virgin olive oil
1/4 teaspoon paprika
16-ounce or 10-ounce package frozen spinach, thawed
1 3/4 cups low-fat milk, divided
3 tablespoons all-purpose flour
2 cups shredded extra-sharp Cheddar cheese
1 cup low-fat cottage cheese
1/8 teaspoon ground nutmeg
1/4 teaspoon salt
 Freshly ground pepper, to taste
 8 ounces (2 cups) whole-wheat elbow macaroni, or penne
Instructions:
Put a large pot of water on to boil. Preheat oven to 450°F. Coat an 8-inch-square (2-quart) baking dish with cooking spray.
Mix breadcrumbs, oil and paprika in a small bowl. Place spinach in a fine-mesh strainer and press out excess moisture.
Heat 1 1/2 cups milk in a large heavy saucepan over medium-high heat until steaming. Whisk remaining 1/4 cup milk and flour in a small bowl until smooth; add to the hot milk and cook, whisking constantly, until the sauce simmers and thickens, 2 to 3 minutes. Remove from heat and stir in Cheddar until melted. Stir in cottage cheese, nutmeg, salt and pepper.
Cook pasta for 4 minutes, or until not quite tender. (It will continue to cook during baking.) Drain and add to the cheese sauce; mix well. Spread half the pasta mixture in the prepared baking dish. Spoon the spinach on top. Top with the remaining pasta; sprinkle with the breadcrumb mixture.
Bake the casserole until bubbly and golden, 25 to 30 minutes.
Tips & Notes:
Make Ahead Tip: Prepare through Step 4. Cover and refrigerate for up to 2 days or freeze for up to 3 months. Thaw in the refrigerator, if necessary, then bake for 35 to 45 minutes.
Tip: To make fresh breadcrumbs, trim crusts from whole-wheat bread. Tear bread into pieces and process in a food processor until coarse crumbs form. One slice of bread makes about 1/2 cup fresh crumbs. For dry breadcrumbs, spread the fresh crumbs on a baking sheet and bake at 250°F until crispy, about 15 minutes. One slice of fresh bread makes about 1/3 cup dry crumbs. Or use prepared coarse dry breadcrumbs. We like Ian's brand labeled "Panko breadcrumbs." Find them in the natural-foods section of large supermarkets.
Storage smarts: For long-term freezer storage, wrap your food in a layer of plastic wrap followed by a layer of foil. The plastic will help prevent freezer burn while the foil will help keep off-odors from seeping into the food.
Nutrition:
Per serving: 576 calories; 22 g fat (11 g sat, 2 g mono); 69 mg cholesterol; 63 g carbohydrates; 37 g protein; 9 g fiber; 917 mg sodium; 403 mg potassium.
Nutrition Bonus: Vitamin A (290% daily value), Calcium (70% dv), Folate (37% dv), Iron (15% dv).
More recipes at http://www.eatingwell.com/recipes
LOADED POTATO SOUP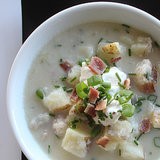 Ingredients:
1 medium head cauliflower, cut into florets
2 russet potatoes, diced
1 cup low-fat milk (one percent)
2 cups low-sodium chicken broth, divided
1 teaspoon salt
1/2 teaspoon pepper
1 tablespoon extra-virgin olive oil
1 white onion, diced
3 cloves garlic, minced
4 slices turkey bacon, diced
1/4 cup fresh chives, chopped
Scallions, chopped, to garnish
Greek yogurt or sour cream, to garnish
Directions:
Bring a large pot of water to boil. Boil the cauliflower florets until tender when tested with a fork (about 10 minutes).
Remove the cooked cauliflower from the pot, and boil the diced potatoes in the same pot until tender. Remove from the water, and set aside.
Combine the cauliflower, milk, 1 cup of chicken broth, salt, and pepper in a large blender, and blend until smooth.
In a large soup pot or skillet, heat the olive oil over medium heat. Cook the onions for about 4 minutes. Add the garlic. Cook for an additional minute.
Pour the cauliflower mixture and the additional cup of chicken broth into your soup pot with the garlic and onions. If the mixture is too thick for your liking, feel free to add equals parts of milk and broth to thin things out. Turn down to simmer, add the turkey bacon and chives, and cook for at least 15 minutes.
Serve in bowls, and top with the classic toppings of your choice.
Nutrition:
Calories 185, Calories from Fat 41, Total Fat 4.6g, Saturated Fat 1.2g. Cholesterol 13mg, Sodium 858mg, Potassium 872 mg, Carbohydrates 24.9g, Dietary Fiber 5.1g, Sugars 7.9g, Protein 10.1g, Vitamin A 5%, Vitamin C 141%, Calcium 12%, Iron 7%  
VEGAN WHITE BEAN SOUP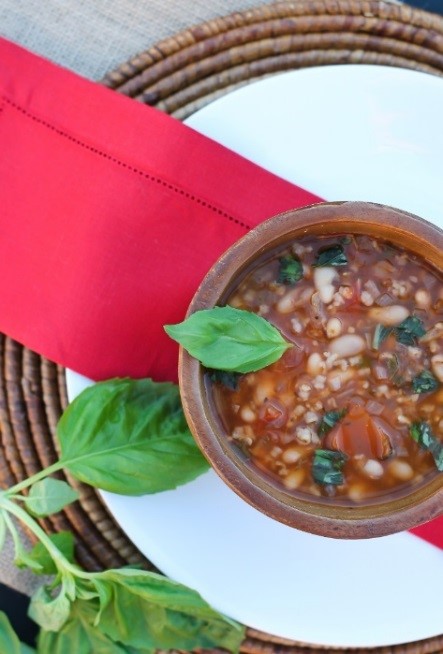 Ingredients:
Rice
1 cup low sodium vegtable broth
1/2 cup dry long grain brown rice
1/8 teaspoon fine sea salt
Soup
6 cups low sodium vegetable broth
1 medium yellow onion, finely chopped
4 large garlic cloves, minced (you will need a heaping tablespoon)
2 Roma tomatoes, roughly chopped (about 2 cups)
1 tablespoon + 1 teaspoon Italian seasoning
1 1/2 teaspoons salt 1/4 teaspoon pepper
2 15 oz cans white beans, drained and rinsed
1/4 cup finely chopped fresh basil
Instructions:
In a medium pot, prepare the rice first by bringing 1 cup broth to a boil and then add the rice, salt and stir and immediately turn to the lowest heat setting and cover. Simmer for 20 minutes or until all the broth is evaporated. Return the lid and let it sit covered 10 minutes.
While the rice is cooking, chop your vegetables. Add the 6 cups broth to a large pot with only the onion, garlic, Italian seasoning, salt, pepper and chili powder. Stir well and bring to a boil. Once boiling, turn down to medium-high and cover and cook for 10 minutes.
Now add the tomatoes, cover and cook on medium-low for another 10 minutes.
Lastly, add the drained beans, fresh basil and cooked rice. Stir well and bring back to a boil. Once boiling, let it cook on high for 5-10 more minutes until heated through. Taste and add any additional spices if necessary, I didn't add anymore. Serve immediately and garnish with more fresh basil, if desired.
November Challenge: comfort recipe contest!
Do you have a favorite fall comfort food? Send me the complete recipe at mtalicska@nmc.edu by by December 4th. Your recipe could be featured in the December Wellness Newsletter and you could win a gift certificate to Oryana.