Presidential Candidates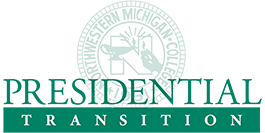 On August 6, 2019, the NMC Presidential Search Committee recommended five final candidates for the position to the NMC Board of Trustees following video interviews with eight semi-finalists. The five will visit Northwestern Michigan College between August 23 and August 29 to interview to become the college's new president. Those visits will include campus and community forums open to the public:
On-Campus Interview Schedule
Friday, Aug. 23 - Nick Nissley
Monday, Aug. 26 - Tom Watkins
Tuesday, Aug. 27 - Marsha Danielson
Wednesday, Aug. 28 - Tim Meyer
Thursday, Aug. 29 - Allen Goben
Daily Schedule
8:30–10:30 a.m. - Interview with Board of Trustees
Hagerty Center, Great Lakes Campus
2:30–3:30 p.m. - Campus Forum
Milliken Auditorium
4–5 p.m. - COMMUNITY FORUM
Milliken Auditorium
5:30–6:30 p.m. Follow-up Meeting of Candidate with Board of Trustees
Hagerty Center, Great Lakes Campus
The five finalists' names are listed below along with the date of their video interviews and links to the interviews and resumes.
Each video link opens in a new browser tab/window. There is a time lapse between the start of the video and the start of the interview, so we note in each description approximately when the interview begins.
Use the video control to fast-forward to the time noted, either by clicking and dragging the blue timeline indicator at the lower left, or by moving your cursor across the timeline until you approach the noted time; then click once on the timeline. Click in the center of the video to begin playing it.
Presidential Candidate Photos

| | | | | |
| --- | --- | --- | --- | --- |
| Marsha Danielson | Allen Goben | Tim Meyer | Nick Nissley | Tom Watkins |
Video Interviews