Presidential Transition
On August 6, 2019, the NMC Presidential Search Committee recommended five final candidates for the position to the NMC Board of Trustees, following video interviews with eight semi-finalists. The five will visit Northwestern Michigan College between August 23 and August 29 to interview to become the college's new president. Those visits will include campus and community forums open to the public.
Presidential Candidate finalists

| | | | | |
| --- | --- | --- | --- | --- |
| Marsha Danielson | Allen Goben | Tim Meyer | Nick Nissley | Tom Watkins |
This is the culmination of work since Nov. 1, 2018, when current president Timothy J. Nelson announced his intention to retire on Dec. 31, 2019. NMC's Board of Trustees expects to name a new president in September, with a start date of Jan. 1, 2020.
The Board of Trustees began discussing plans for a presidential transition at a special public study session Nov. 6, 2018, including calling a meeting of the Presidential Performance and Compensation Committee to review the current presidential contract, creating a Presidential Search Committee, preparing an initial board survey to determine what trustees want in a new president and agreeing to seek proposals from professional search consultants.
​Presidential Search Committee
Student:
Emily Perkins, SGA President
Faculty:
Lisa Balbach, CIT Instructor
Brandon Everest, Social Sciences Instructor
Sarah Wangler, English Instructor
Executive:
Stephen Siciliano
Staff:
Judy Arnold, Financial Aid
Lori Hodek, Human Resources
Chad Schenkelberger, Hagerty Center
Portfolio B:
Hans Van Sumeren
Community:
Barb Benson
Bruce Byl
Warren Call
Nick Ceglarek
Bill Myers
Ed Ness
Trevor Tkach
Elaine Wood
Trustees:
Chris Bott
Ross Childs
Rachel Johnson
"The Search Committee and the Board will make all its decisions and hold meetings in compliance with the Open Meetings Act, and after legal consultation about proper interviewing and decision making," Board Chair Kennard Weaver said at the Nov. 6 study session. "We intend to be completely open and transparent, because we are engaged in the public's business.... At the same time, we want it to be clear to everyone that President Nelson will continue to have the full support of the Board. He has and will continue to have all of the authority and responsibility he has had throughout his NMC career, until his last day of service. He has created a stable financial and structural atmosphere at the college, which will help us in securing good candidates. The Trustees intend to carry forward the successes President Nelson has enabled here, and a new President will not need or be asked to change our general direction and strategies."
View the video of the Nov. 1 Town Hall meeting where NMC President Tim Nelson announced his decision to retire below.
In The News
Five finalists to interview for president of Northwestern Michigan College
RECORD-EAGLE
August 6, 2019
Eight semi-finalists tapped for NMC top post
RECORD-EAGLE
August 3, 2019
Finalists Named For New NMC President
THE TICKER
August 1, 2019
Eight finalist interviews for president of Northwestern Michigan College
UPNORTHLIVE.COM
July 31, 2019
Presidential profile approved by NMC board
Position to be advertised beginning this week
RECORD-EAGLE
May 21, 2019
Presidential profile takes shape at NMC community forum
Leadership, communication skills top list of hopes
RECORD-EAGLE
April 3, 2019
Seats on 19-member NMC search committee tentatively filled
RECORD-EAGLE
March 29, 2019
NMC presidential search committee forming
Three members named, a dozen more needed
RECORD-EAGLE
February 26, 2019
NMC chooses Illinois firm to lead search for new president
Nelson to remain at the college's helm until December
RECORD-EAGLE
January 16, 2019
NMC Hires Firm For President Search
THE TICKER
January 16, 2019
NMC Board narrows field of search firms to four
Yearlong process of finding new president begins
RECORD-EAGLE
December 18, 2018
COMMUNITY COLLEGE DAILY
November 5, 2018
Northwestern Michigan College President Retiring After 18 Years
9 & 10 NEWS
November 2, 2018
NMC president to retire after nearly two decades
UPNORTHLIVE.COM
November 2, 2018
NMC's Nelson, Announcing Retirement, Looks Back, Forward
THE TICKER
November 2, 2018
NMC president Tim Nelson to retire at end of 2019
Nelson leaving the college in good shape, board president says
RECORD-EAGLE
November 1, 2018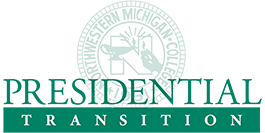 News releases and announcements
Newer items at the top
August 6, 2019: NMC Board of Trustees to Interview Five Finalists for President. Read more »
July 31, 2019: NMC Presidential Search Committee to Interview Eight Candidates. Read more »
May 20, 2019: Presidential Search Position Profile released.

Applications will be accepted until the position is filled, with materials submitted by noon, Sunday, July 7, 2019 receiving priority consideration.

April 2, 2019: Presidential Search Community Forum held at 5:30 p.m. at the Hagerty Center to explain the process and seek comments on expectations, visions and qualities for NMC's next president.
Mar. 18, 2019: Community member seats made available on the search committee. More information is available in the March 18, 2019 board meeting materials.
Jan. 15, 2019: Trustees select presidential search consultant
Nov. 1, 2018: News release: NMC President to retire after 2019
Transition Timeline
Newer items at the top
August 5-6, 2019: Search Committee interviews semi-finalist candidates via Zoom and recommends 3-5 finalists for further consideration by Board of Trustees through Board interviews and campus forums.
July 29, 2019: Search Committee meets with Pauly Group to narrow pool to 8-12.
July 25, 2019: Search Committee reviews pool and rates each candidate.
July 18, 2019: Search Committee receives access to pre-screened applicant pool.
July 8-9, 2019: Pauly Group conducts initial screenings to select about 20 potential candidates for further Search Committee screening.
July 7, 2019: Date for priority applications to be received by Pauly Group.
May 20, 2019: Board of Trustees unanimously approves Presidential Search Position Profile.
Feb. 25, 2019 - Board of Trustees Chair Chris Bott appoints himself, trustees Rachel Johnson and Ross Childs to Board Presidential Search Committee. The three also serve as trustee members of a larger presidential search committee that includes NMC faculty, staff and students and community members.
Jan. 14, 2019 - Board of Trustees votes unanimously to select Pauly Group Inc. as presidential search consultant.
Jan. 9, 2019 - Board of Trustees interviews top search consultant candidates.
Dec. 17, 2018 - Board of Trustees reviews and ranks 8 search consultant proposal submissions, invites 4 top-ranked candidates to interview — Pauly Group Inc., of Illinois; Gold Hill Associates, of Mississippi; AGB Search, LLC, of Washington, D.C.; and Myers McRae Executive Search and Consulting, of Georgia.
Nov. 26-27, 2018 - NMC puts out a request for proposals (RFP) for professional search consultants, sends RFP to 14 firms. Proposals due Wednesday, Dec. 12.
Nov. 6, 2018 - Board of Trustees begins discussing a transition plan, agrees to seek proposals from professional search consultants.
Nov. 1, 2018 - President Tim Nelson announces his plans to retire at the end of 2019.