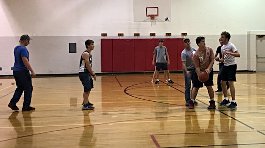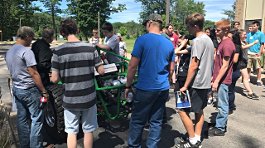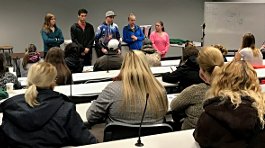 Events & Activities
Annual Events
All commitment students must attend/participate in a minimum of four events listed below and one online module (by grade level) per year, in order to meet the requirements of your scholarship. Your coordinator will keep track of your attendance and participation. Event cycles are for 12 months and begin in June 2017 (with the Campus Takeover/Overnight event) and run through next May 2018.
Campus Takeover/Overnight
Come to NMC's main campus and enjoy a day and/or overnight of activities, games, and team building with current Commitment students from NMC, as well as other high school students from across northwest Michigan!

Date: TBD - Summer 2018
Who is eligible: All Commitment students!
'Evenings @ NMC'
Have you or your parents forgotten about how your Commitment Scholarship works? Are you unsure of what it covers or what it doesn't cover? Do you know the difference between scholarships, grants, and/or loans? If yes, please make sure you attend one of our four informational sessions. Students only need to attend ONE event out of the four listed.

Date: Friday, April 6; Friday, April 13; Friday, April 20; Friday, April 27
Who: This is mandatory for all ONLY senior (2018) Commitment students.
Induction Ceremony
Attention class of 2021, this is your first mandatory event at NMC as part of your "commitment" to our Commitment Scholarship Program! This event will be similar to an awards ceremony, where you will officially receive your Commitment Scholarship certificate!

Date: Saturday, May 19
Who: This is mandatory for all freshmen (2021) Commitment students.
Leelanau Outdoor Center (LOC)
Come visit the shoreline in Leelanau County and participate in an outdoor educational adventure that builds positive character traits, camaraderie among all Commitment students, and challenge yourself physically, mentally, and socially by breaking out of your comfort zone!

Date: August 24–25, 2018
Who is eligible: Freshmen (2021) and sophomores (2020).

Seniors (2018) and juniors (2019) may also attend as chaperones/volunteers!

Space is limited to the first 80 students.
High School Visits
As a Commitment Scholar, you must attend three (3) out of four (4) high school visits that I will be making to your school throughout the year. I will visit your high school twice in the fall and twice in the spring!

Date: Sept. 2017 - May 2018
Who: These are mandatory meetings for ALL Commitment students and don't count towards your 4 (four) total in-person events..
Program Events — Online:
In addition to in-person events, sophomores through seniors must also complete their assigned financial aid modules/coursework. These courses will help prepare you (and your parents!) for college and beyond. These courses must be completed between your second and third high school visits!
Financial Literacy - You Can Deal With It
Financial Literacy - USA Funds Life Skills
Financial Literacy - CashCourse
NOTE: All information is subject to change, and space/availability for each event is limited. More information will be given about event specifics, such as number of openings, times, etc. as they approach.
Questions?
Contact NMC Admissions at (231) 995-1054 or admissions@nmc.edu.