Osterlin Library Instruction Program
Introduction
Osterlin Library is committed to developing information-literate students, teaching them how to find, evaluate and effectively use information through a variety of instructional services useful to any assignment or discipline. We teach to the Association of College & Research Libraries Framework for Information Literacy for Higher Education and support the NMC General Education Outcomes of communication and critical thinking.
Benefits of library instruction
Library instruction improves efficiency and effectiveness of student information gathering and critical evaluation, which helps more students meet the learning outcomes of your assignments.
Students become less apprehensive about and more skilled in the use of research tools required for academic success and lifelong learning.
Information literate students are savvy information consumers. They understand the need to evaluate resources and are skilled at assessing the quality, reliability and credibility of information across a wide and growing range of contexts and formats.
Instructional options
Assignment based instruction in your classroom or in the library. For example, Geography students working on a country overview coming to the library to learn about the Geography resources available in the library reference collection and online. (1–2 hours)
General library resources and services overview with emphasis on specific collections. For example, Children's Literature students coming to the library for a session on how to use and access library resources for children's literature, including books and article databases. (1 hour)
In-class instruction on specific library research tools. For example, librarian visits classroom and instructs students on how to use citation generator, NoodleBib. (20–30 minutes)
Curriculum integrated library instruction. Multiple instruction sessions (2 minimum) allow for the most benefit to students, allowing for both demonstrations and learning exercises along with independent research with librarian (and instructor) assistance. This is the model used in ENG 111 & ENG 112, where students receive instruction on general research principles and specific online article databases for searching. (2 hours each session)
Online instruction embedded into Moodle. Librarians are able to deliver library instruction in the online environment.
Successful research assignments
The library is continually acquiring new materials, both print and electronic. Learn about the library resources available for your subject area.
Librarians will work with you to integrate information literacy into your curriculum and to modify or create effective research assignments.
Instructional help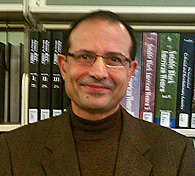 "Osterlin Library staff equip my students with a complete set of research tools needed to write a research paper — an essential component of the assignments required for my course."
DR. AMJAD KHAN, NMC FACULTY, ECONOMICS