NMC student is top Michigan community college scholar
TRAVERSE CITY — Roxanne (Roxy) Scrivener, a computer information technology student at Northwestern Michigan College, has been named Michigan's 2016 New Century Scholar, by achieving the state's highest score in the All-USA Community College Academic Team competition.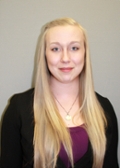 Scrivener, who will graduate this spring with a 4.0 GPA, will receive a $2,000 scholarship, which she plans to use to continue her education in computer information systems at Ferris State University through NMC's University Center. She is NMC's second straight New Century Scholar and the third in the last four years. Kathy Tahtinen of Traverse City won in 2015 and Jessica Abfalter won in 2013.
Scrivener, 27, is from Great Falls, Mont. She started at NMC in 2011 and has earned more than 90 credits. Her extracurricular involvements while a student included serving as a Big Sister though Big Brothers Big Sisters, as an officer in NMC's chapter of Phi Theta Kappa, the international community college honor society, tutoring, and serving on the planning board for NMC's first Welcome Weekend. In her spare time she enjoys disk golf, and practiced on NMC's course for an amateur world competition in Kalamazoo.
The New Century Scholars Program, sponsored by The Coca-Cola Foundation, Coca-Cola Scholars Foundation, Phi Theta Kappa, and the American Association of Community Colleges, and the All-USA Community College Academic Team Program share a common application and together recognize outstanding community college students. More than 1,900 students were nominated from more than 1,000 community colleges for recognition. Judges consider grades, leadership, activities and most importantly, how students extend their intellectual talents beyond the classroom. While working as a tutor Scrivener, for example, helped to program a tracking system for students using NMC's Tutoring Center.
New Century Scholars are the highest scoring students in each state, with an additional student chosen from among one of the seven sovereign nations where Phi Theta Kappa is represented. Scholars will be recognized in Chicago, IL on April 12 during the American Association of Community Colleges Convention.
Release date: March 4, 2016
For more information:
Kari Kahler
Dean of Learning Services/PTK Adviser
kkahler@nmc.edu
(231) 995-1228
NON-DISCRIMINATION POLICY NOTICE
Northwestern Michigan College is committed to a policy of equal opportunity for all persons and does not unlawfully discriminate on the basis of race, color, national origin, religion, disability, genetic information, height, weight, marital status or veteran status in employment, educational programs and activities, and admissions.
nmc.edu/non-discrimination