NMC breaks ground on new student housing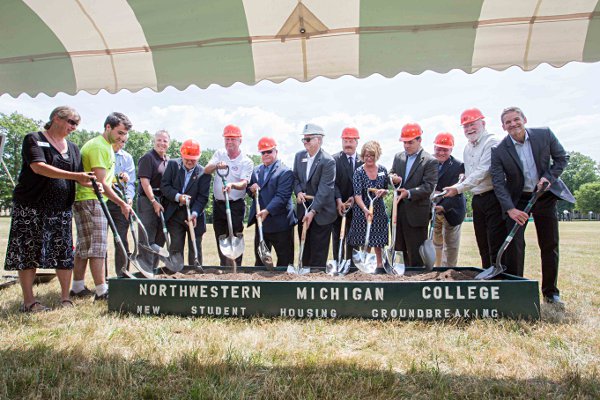 TRAVERSE CITY — Northwestern Michigan College held a groundbreaking ceremony at the site of a new student housing and fitness center Monday, July 11 at 2:30 p.m. The ceremony, on the north side of East Hall on NMC's Front St. Campus, kicks off construction on the new $8.8-million, 140-bed project.
This is the first student housing built at NMC in more than 40 years. The student apartments were constructed in 1973 and the East Hall dormitory was built in 1965.
Current student housing at NMC has been at capacity for three years.
The new student housing project is expected to be complete and ready for students to move in by August 2017, for the fall semester.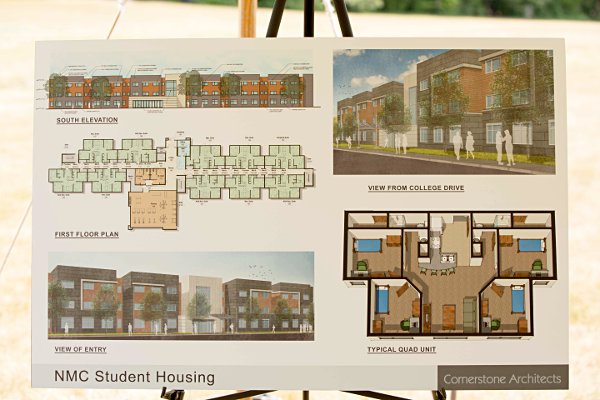 "This project is the first of several major construction projects planned for in the next few years that will increase NMC's ability to serve our learners and the community, while also updating outdated campus infrastructure. Combined, these projects show the dedication of our NMC employees, donors, community, business and governmental partners all working together to help ensure our learners are successful." Said President Timothy J. Nelson, "it's an exciting time at NMC as we see years of hard work begin to materialize and we continue to invest in the future of education."
The project is self funded.
Spence Brothers will oversee construction. The company was awarded the project after a competitive bid process.
Release date: July 6, 2016
Updated: July 11, 2016
For more information:
Diana Fairbanks
Executive Director of Public Relations, Marketing and Communication
dfairbanks@nmc.edu
(231) 995-1019
NON-DISCRIMINATION POLICY NOTICE
Northwestern Michigan College is committed to a policy of equal opportunity for all persons and does not unlawfully discriminate on the basis of race, color, national origin, religion, disability, genetic information, height, weight, marital status or veteran status in employment, educational programs and activities, and admissions.
nmc.edu/non-discrimination