Aviation, CIT instructor win awards
TRAVERSE CITY — Aviation recruiter Al Laursen and computer information technology instructor John Velis have been named NMC's recipients of annual excellence awards.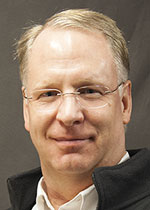 Both are 2016-17 recipients of the NISOD award for teaching excellence. Affiliated with the University of Texas at Austin, NISOD is committed to promoting and
celebrating excellence in teaching, learning, and leadership at community and technical colleges. Criteria include professionalism, relationships with students and colleagues, and commitment to learning
"I consider myself lucky to have stumbled into the best job at NMC, where I get to be immersed in a field I love without having to be away from home all the time," said Laursen, a former pilot, pictured right. "I'm fortunate to have bosses who support me with the resources and autonomy I need to do my job and to be part of a great team of aviation professionals who support me, each other, and our students. I appreciate the recognition and look forward to my continued work in the NMC community."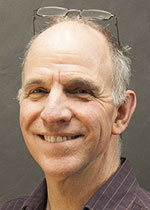 "Education has been a passion for me for most of my life," said Velis, pictured left. "It has brought me great satisfaction, along with many challenges along the way. Being recognized by my peers with a NISOD Excellence Award is humbling as I know I could not do what I do without the support of the many professionals that surround me daily."
Laursen joined NMC in 2011 and Velis in 2013. Both will receive their awards in at the annual NISOD conference in May.
Read more about aviation and computer information technology at NMC.
Release date: January 25, 2017
For more information:
Diana Fairbanks
Executive Director of Public Relations, Marketing and Communications
dfairbanks@nmc.edu
(231) 995-1019
NON-DISCRIMINATION POLICY NOTICE
Northwestern Michigan College is committed to a policy of equal opportunity for all persons and does not unlawfully discriminate on the basis of race, color, national origin, religion, disability, genetic information, height, weight, marital status or veteran status in employment, educational programs and activities, and admissions.
nmc.edu/non-discrimination