Aviation alumnus named Envoy Air's youngest chief pilot, leads at LaGuardia
TRAVERSE CITY — A 2011 Northwestern Michigan College aviation alumnus has been named the youngest chief pilot in company history by Envoy Air and now leads the airline's operations at a major air traffic hub.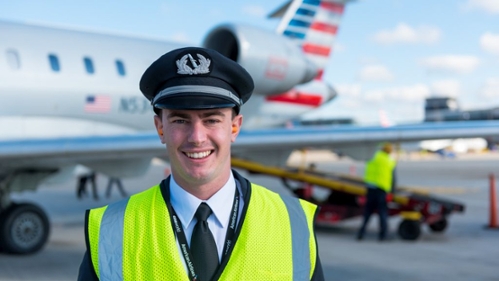 In late December Ryan Ferris, 26, was named chief pilot of Envoy's New York base at LaGuardia Airport, the nation's twentieth busiest airport. He will supervise the 150 Envoy captains and first officers based at LaGuardia as well as coordinate with multiple other departments, including ground handling, passenger service, Transportation Security Administration and air traffic control to ensure a safe and reliable operation for the passengers.
Alex Bloye, director of NMC's Aviation division, said Ferris' accomplishment at his age is significant. In addition to becoming Envoy's youngest chief pilot, he is one of the few to ascend to that role without first being a captain.
"Usually chief pilot positions with airlines are reserved for folks with decades of experience. They are the base leader, and are ultimately responsible for the safety and regulatory compliance of thousands of passenger flights, and hundreds of pilots and crew members," Bloye said.
Prior to his new role, Ferris spent three years flying as a first officer for Envoy Air, a subsidiary of American Airlines. He was also a flight instructor at NMC for two and a half years.
"Northwestern Michigan College did an outstanding job preparing me for the responsibilities of this position," said Ferris, originally from Portage, Mich. "The flight school provided me with the knowledge and skills to handle the stresses of being an airline pilot, while NMC's critical-thinking based curriculum helped me develop into a well-rounded manager."
Envoy Air Inc. is a wholly-owned subsidiary of American Airlines Group and operates nearly 180 aircraft on about 900 daily flights to more than 150 destinations. Headquartered in Texas, Envoy was formerly known as American Eagle.
As American Eagle, NMC in 2014 signed a pipeline agreement with the company that gives aviation students early access to interviews, employment and a signing bonus.
Release date: January 9, 2017
For more information:
Ryan Ferris
Envoy Air
ryan.ferris@aa.com
(269) 598-4615
Alex Bloye
NMC Aviation
abloye@nmc.edu
(231) 995-2929
NON-DISCRIMINATION POLICY NOTICE
Northwestern Michigan College is committed to a policy of equal opportunity for all persons and does not unlawfully discriminate on the basis of race, color, national origin, religion, disability, genetic information, height, weight, marital status or veteran status in employment, educational programs and activities, and admissions.
nmc.edu/non-discrimination