Maritime instructor wins MARAD Outstanding Service medal
TRAVERSE CITY — Great Lakes Maritime Academy instructor Capt. Michael Horn received the Merchant Marine Medal for Outstanding Service from the U.S. Maritime Administration on May 6.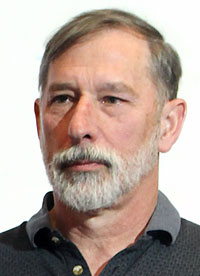 Horn, of Rogers City, is a 1976 graduate of the U.S. Merchant Marine Academy in King's Point, N.Y. Upon graduation he began a 36-year career as a merchant marine officer. He spent 24 years as master of large, ocean-going hopper dredges operated by Great Lakes Dredge and Dock. Additionally, Capt. Horn earned First Class Pilotage for the Great Lakes.
In 2012 Horn came ashore and joined the faculty of the Great Lakes Maritime Academy at Northwestern Michigan College. He also routinely sails as a watch officer on the MARAD-owned training ship State of Michigan. His passion for development of future merchant marine officers and radio technology was a near perfect combination for the needs of the Academy, said GLMA Superintendent Jerry Achenbach.
The Merchant Marine Medal for Outstanding Achievement is awarded in recognition of merchant mariners who have dedicated years of service, and have made an extraordinary valuable contribution to the U.S. maritime industry. This medal requires the Maritime Administrator's personal approval. It was presented at the Academy's graduation dinner by Rand Pixa, MARAD acting chief counsel.
Release Date: May 18, 2017
For more information:
Great Lakes Maritime Academy
(231) 995-1200
NON-DISCRIMINATION POLICY NOTICE
Northwestern Michigan College is committed to a policy of equal opportunity for all persons and does not unlawfully discriminate on the basis of race, color, national origin, religion, disability, genetic information, height, weight, marital status or veteran status in employment, educational programs and activities, and admissions.
nmc.edu/non-discrimination