NMC earns final approval for 21st Century Innovation Center from Michigan Legislature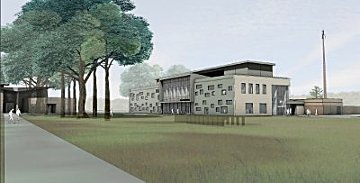 TRAVERSE CITY — Northwestern Michigan College will begin construction in 2018 on its new multi-million-dollar 21st Century Innovation Center after receiving final funding approval today in the Michigan legislature's FY18 Omnibus Budget, which now goes to Governor Snyder for his signature.
Once complete, the center will combine state investments of more than seven million dollars for important renovations and modernizations of the 50-year-old West Hall with NMC-funded investments of more than seven million dollars for a new multi-story library and learning space.
"We are extremely thankful for the support that our state legislative leaders have shown NMC and the 21st Century Innovation Center," said Timothy J. Nelson, President of Northwestern Michigan College. "Especially the support of Representative Inman and Senator Booher who both serve on the Joint Capital Outlay Committee and Senator Schmidt who has been a strong supporter in the Senate."

The approved project received input from faculty and staff, including 270 comments during a campus-wide opening conference and 17 user group workshops led by architectural firm Stantec. The new center will encompass an approximately 54,000-square-foot facility, including both state and NMC self-funding portions. It will incorporate innovative and transformative learning environments, a new library and multiple academic and simulation spaces.
"As a result of extensive campus and community input, our program planning team agreed that for the 21st Century Innovation Center to be a success it must complement all NMC facilities, replicate none; be agile in space and technology to meet changing learning needs and encourage users to be curious, experiment, take thoughtful risks and create," said Nelson. "As a result, once complete, this project will not only help meet our strategic direction of ensuring that NMC learners are prepared for success in a global society and economy, but also will help to enhance our ability to deliver learning through a networked workforce."
Since 2005, among Michigan's 28 community colleges, NMC ranks 23rd in capital outlay appropriations, having received only $650,000 in state investment. In addition, the project was one of only five community college projects to receive construction approval by the House and Senate Joint Capital Outlay Committee this year. President Nelson says, "Creating this centralized space on campus is critical for the new community college model of providing competency-based, content-based knowledge application in the pursuit of social, economic and talent development. Over the last six years, we have invested significant time and effort in requesting funding for this project. We are pleased our legislators have recognized our dedication and commitment and are helping to make this investment a reality, for our learners now and into the future."
"Among my top priorities as a member of the Michigan House of Representatives' Appropriations Committee and vice-chair of the Joint Capital Outlay Subcommittee on Appropriations was to fight for this capital outlay funding for Northwestern Michigan College," said State Representative Larry Inman, 104th district, Grand Traverse County. "I am so pleased as a past NMC Outstanding Alumnus of the Year, along with Senator Schmidt and Senator Booher, that we were able to bring this project across the finish line, among the many other capital outlay projects that were considered. This is a huge win for NMC and students in our area, and to attract more students to NMC, having one of the most innovative community college campuses and learning centers in the state. I am so proud I was part of the team to get this project awarded to NMC."
"As a longstanding supporter of Northwestern Michigan College, I am very pleased to have played a role in helping to secure resources for this significant project," said State Senator Wayne Schmidt, who represents the 37th State Senate District in Northern Michigan. "This investment by the state will not only benefit learners in my community, but will also support innovative spaces for learners from around the state and world who are attracted to NMC for its diverse educational opportunities. I am proud of NMC for their work on this and am glad I was able to push this project across the finish line."
State Senator Darwin Booher, representing the 35th State Senate District, said, "The 21st Century Innovation Center project expands the educational opportunities that NMC offers and helps continue to make NMC a leader in higher education in our region. As senate chair of the Capital Outlay Subcommittee, I have reviewed all of the projects submitted and know that this is one of the best projects for equipping people for the jobs of tomorrow."
Release Date: June 22, 2017
For more information:
Vicki Cook
Vice President of Finance and Administration
vcook@nmc.edu
(231) 995-1144
NON-DISCRIMINATION POLICY NOTICE
Northwestern Michigan College is committed to a policy of equal opportunity for all persons and does not unlawfully discriminate on the basis of race, color, national origin, religion, disability, genetic information, height, weight, marital status or veteran status in employment, educational programs and activities, and admissions.
nmc.edu/non-discrimination