NMC veteran services rank third in U.S.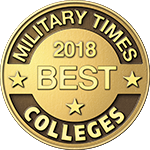 TRAVERSE CITY — Northwestern Michigan College has risen to the rank of third-best community college in the nation for its service to veterans, according to Military Times magazine.
Among two-year colleges, NMC ranked third and was the only Michigan college to make the publication's Military Times Best: Colleges 2018 rankings, formerly known as Best for Vets and published this week. The new ranking improves upon the fifth-place position NMC achieved in 2016.
Best Colleges 2018 is an editorially independent news project that evaluates the many factors that help make colleges and universities a good fit for service members, military veterans and their families. More than 600 colleges took part in this year's detailed survey, which assesses veteran and military student services and rates of academic achievement. Data from the Veterans Affairs and Defense departments are also factored in.
NMC established an office of Military and Veteran Services in 2012. Led by Point of Contact Scott Herzberg, it works with the larger college community to foster an environment that leads to veteran success year-round. Here are some of the investments NMC has made to earn that ranking:
Veteran-specific application and orientation, personal campus tour
Veterans lounge in West Hall
Active chapter of Student Veterans of America
Professional development offered to faculty, staff and advisers on how best to work with veterans
Veterans Resource section in Osterlin Library—to educate civilians as well
No-interest loans to veterans waiting for processing of their benefit checks, so they may enroll immediately.
NMC makes up the difference between military pay and NMC pay for reservist employees who are called to active duty. Family enrollment in all benefits also continues.
In-state (out of district) tuition rates for active duty military and their dependents, regardless of their legal residence (existed since 2008)
Veteran Lending Library to save textbook costs
Ongoing efforts to convert military service into academic credit
Hiring our Heroes spring job fair at the Hagerty Center
Red-white-and-blue cords to wear at Commencement, diplomas granted to service dogs
About 5 percent of NMC students are veterans or active-duty military.
Release date: November 21, 2017
For more information:
Scott Herzberg
POC, Military and Veterans Affairs
(231) 995-2526
sherzberg@nmc.edu
NON-DISCRIMINATION POLICY NOTICE
Northwestern Michigan College is committed to a policy of equal opportunity for all persons and does not unlawfully discriminate on the basis of race, color, national origin, religion, disability, genetic information, height, weight, marital status or veteran status in employment, educational programs and activities, and admissions.
nmc.edu/non-discrimination