2018 Faculty Excellence recipients named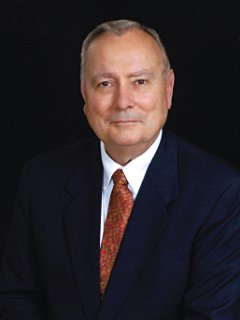 Steve Drake (click for high-resolution version)TRAVERSE CITY — Math and science instructors were named the 2018 winners of NMC's annual Faculty Excellence awards at commencement ceremonies May 5.
Math instructor Steve Drake is the Imogene Wise Faculty Excellence Award winner. Biology instructor Julia Sheerin is the Adjunct Faculty Excellence Award winner. Chosen by a student selection committee, criteria for both awards include teaching excellence, rapport with students, innovation in the classroom and a sense of dedication.
Drake began his career at NMC in 1971 and is the longest-tenured member of the current NMC faculty. He also earned the distinction in 2010 and joins a small group of two-time winners including history instructor Jim Press (2016, 1998) and the late Sonja Olshove (2013, 2001) social sciences instructor.
In their nominations students said of Drake:
"This instructor always makes time to meet with us to go over the material outside of class, staying late in the evenings and even on offering open forums on the weekends."
"This teacher is concerned for every student's learning. He is fair, and he rewards us for more than test scores; he rewards our improvement, too, which is really encouraging."
"He really wants students to succeed – he puts his heart and soul into his work."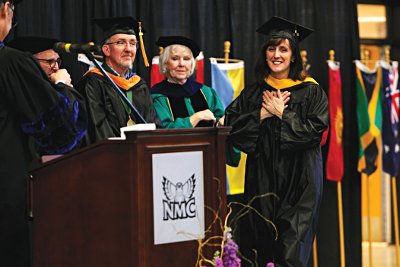 Julia Sheerin, far right (click for high-resolution version)Sheerin began her career in 2004. In their nominations students said of her:
"The instructor helps students care about the material she teaches by expressing her passion about the subject as well as showing her love for her students. She truly is an amazing teacher."
"The instructor always makes the class interesting with facts and stories that connect to the subject. The instructor knows how to entertain the class as well as create a strong learning environment."
"The instructor does not focus on a single learning style, but includes all of them into the material so that students are able to learn it, as well as learn how to handle different studying strategies."
The Faculty Excellence award was initiated by a contribution from longtime NMC benefactors Harold and Imogene Wise in 1970 and first awarded to a full-time faculty member in 1971. The Adjunct Faculty Excellence Award was created in 1999 as a companion.
Release date: May 14, 2018
For more information:
Diana Fairbanks
Executive Director, NMC Public Relations, Marketing & Communications
dfairbanks@nmc.edu
(231) 995-1019
Non-discrimination Policy Notice
Northwestern Michigan College is committed to a policy of equal opportunity for all persons and does not unlawfully discriminate on the basis of race, color, national origin, religion, disability, genetic information, height, weight, marital status or veteran status in employment, educational programs and activities, and admissions.
nmc.edu/non-discrimination