Edsons receive 2019 NMC Fellow award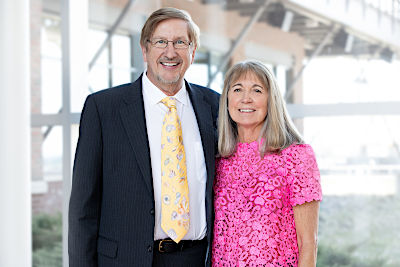 Dan and Debbie Edson (click for high-resolution version)TRAVERSE CITY — Daniel and Debra Edson have been named the 2019 recipients of Northwestern Michigan College's highest honor, the NMC Fellow award.
The couple have been committed, passionate supporters of education since they met at Central Michigan University in the 1970s. Debbie Edson then went on to a 41-year career in special education with the Traverse Bay Area Intermediate School District. Dan Edson began his career in microbiology, inventing the world's first blood test for Legionnaires' disease in 1978. He went on to become an entrepreneur, co-founding the American Proficiency Institute in 1991. The Traverse City company is now a global leader in assessing the accuracy of laboratory tests. It employs 60 and has 20,000 clients worldwide.
While their success is global, it is important to the Edsons to give back to the local community where they raised their family and base their business. Their philanthropic support of NMC spans 26 years and has included scholarships, the University Center, the Dennos Museum Center, radio station WNMC and the West Hall Innovation Center. The college is a "wonderful resource," Debbie Edson said.
"As we've gotten to know people at NMC, it just seems like it's a great way to build the learning platform," said Debbie Edson, adding all three children took classes at NMC.
Coming from Mancelona, Dan Edson said the college plays a key role in serving students regionally.
"That's really important. I grew up in Antrim County, and I understand that," he said.
Through API, Dan Edson has long collaborated with educational and medical partners including Michigan State University, Munson Healthcare and Ferris State University. He received an honorary doctorate from his alma mater, Central Michigan University, in December 2018. The couple's philanthropy also includes a full tuition scholarship to the MSU College of Human Medicine that offers preference to an NMC transfer student.
Volunteer leadership is another important facet of the Edsons' lives. Debbie Edson serves as a board member for the NMC Foundation and as a campaign steering committee member. Dan served as board chairman at the Traverse Health Clinic for 16 years and is now a member of the Munson Medical Center Board of Trustees.
NMC Foundation Executive Director Rebecca Teahen said the award is the culmination of a lifetime of personal commitment to advancing health, supporting and leading in education, and protecting the natural landscapes so critical to northern Michigan.
"Knowing them personally, since I was a child, and then having the opportunity to work closely with Dan and Debbie as they continue to support the college and our students has been an absolute joy," Teahen said. "They both bring a 'matter of fact' approach their support of education and our community; it's something they have always believed in and they have seen the power of education to change lives."
The Fellow is Northwestern Michigan College's highest honor, awarded annually since 1964. Fellows may be nominated because they have demonstrated influential networking on behalf of the College, have demonstrated a pattern of outstanding financial or personal time contributions to NMC, or as a retiree of the College continue to contribute back to their academic or professional fields as volunteers, mentors or advisors. Exceptional contributions in one or more of these areas may justify nomination
See a list of past recipients.
Release date: May 21, 2019
For more information:
NMC President's Office
(231) 995-1010
NON-DISCRIMINATION POLICY NOTICE
Northwestern Michigan College is committed to a policy of equal opportunity for all persons and does not unlawfully discriminate on the basis of race, color, national origin, religion, disability, genetic information, height, weight, marital status or veteran status in employment, educational programs and activities, and admissions.
nmc.edu/non-discrimination