New leader at The Dennos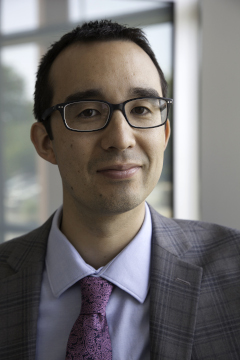 Craig Hadley (click for high-resolution version)
Photo by Cindy O'DellTRAVERSE CITY — A new era has opened at Northwestern Michigan College's Dennos Museum Center with Craig Hadley taking over leadership as director.
After a national search, Hadley began his duties providing planning, vision and direction for the Dennos Museum Center and managing its operations earlier this month. The Dennos is a flagship of NMC and the major public cultural center for the arts in Northwest Michigan.
He comes to NMC from DePauw University in Indiana where he was director/curator with rank of assistant professor. He oversaw the recently-accredited university Galleries & Collections, which serves as a hub for undergraduate teaching and research. Hadley also regularly taught independent studies and capstone courses in the program's museum studies minor, and has also served for five years on the board of the Association of Academic Museums & Galleries. Hadley succeeds founding executive director Eugene Jenneman, who retired in July.
"I'm thrilled to join the Dennos Museum Center team at this pivotal moment in NMC's history. Gene created and sustained a first-rate museum program along with a solid team of professional staff," Hadley said. "Together, I look forward to continuing this tradition of providing high-quality exhibitions and performances for the Traverse City community, along with building new campus partnerships and experiential learning opportunities for our students."
The NMC search committee highlighted Hadley's understanding of the higher education landscape, passion for the mission of museums and desire for interconnected learning and building bridges as some of his strengths.
The Dennos will open two new exhibits to the public on Sept. 22: Explorations in Wood, curated from The Center for Art in Wood in Philadelphia, and Carole Harris: Art Quilts
About the Dennos: Opened in 1991, the Dennos Museum Center at Northwestern Michigan College is a premier cultural facility in northern Michigan offering a dynamic array of exhibitions and programs in the visual arts, sciences, and performing arts. The Museum includes temporary exhibition and permanent collection galleries, an elegant sculpture court, and a hands-on Discovery Gallery. Its signature collection is Inuit art of the Canadian Arctic, one of the largest and most historically complete collections of these distinctive sculptures and prints in the United States.
The Milliken Auditorium hosts events and concerts with performers from around the world. Visit the Museum Store for great shopping, including a fine selection of Inuit art for collectors. A significant collection of outdoor sculptures by noted international and Michigan artists surrounds the Museum on the beautiful campus of Northwestern Michigan College
Release date: September 17, 2019
For more information:
Craig Hadley
Executive Director, Dennos Museum Center
(231) 995-1055
chadley@nmc.edu
NON-DISCRIMINATION POLICY NOTICE
Northwestern Michigan College is committed to a policy of equal opportunity for all persons and does not unlawfully discriminate on the basis of race, color, national origin, religion, disability, genetic information, height, weight, marital status or veteran status in employment, educational programs and activities, and admissions.
nmc.edu/non-discrimination