New leader for NMC Nursing, Allied Health programs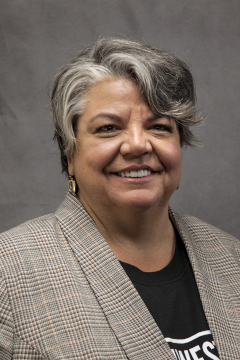 Amy Jones (click for high-resolution version)TRAVERSE CITY — Northwestern Michigan College's nationally accredited Nursing and Allied Health programs have a new leader, Amy Jones, RN.
With a lifelong commitment to education and nursing, Jones, 51, comes to NMC from Mercy Hospital in Springfield, Mo., where she spent 18 years in roles from bedside nurse to patient safety and risk management.
For many years, Mercy held one of the few remaining hospital-based nursing programs in the United States. Jones held a faculty position and then led the associate degree nursing program as Director of Mercy College of Nursing.
An RN since 2000, Jones received her associate's and bachelor's degrees in nursing from Cox College in Missouri. She earned a master's degree in nursing from the University of Missouri-Kansas City in 2009. Currently, she is completing her doctorate of nursing practice through Case Western Reserve University. She succeeds Laura Schmidt, who retired.
"My passion is patient-centered care. NMC already has an amazing foundation, and I look forward to finding opportunities for the program to grow and serve the northern Michigan community," Jones said.
In June NMC's nursing programs received re-accreditation for the next eight years. NMC offers
Practical Nursing (PN) certification and an Associate Degree in Nursing (ADN). Students with a Licensed Practical Nurse (LPN) certification can earn their ADN via the LPN to ADN completion option.
NMC nursing programs are approved by the Michigan Board of Nursing and are accredited by the Accreditation Commission for Education in Nursing. Find out more at nmc.edu/nursing.
Release date: SEPtember 16, 2019
For more information:
Amy Jones
Director, Nursing & Allied Health programs
(231) 995-1245
amjones@nmc.edu
NON-DISCRIMINATION POLICY NOTICE
Northwestern Michigan College is committed to a policy of equal opportunity for all persons and does not unlawfully discriminate on the basis of race, color, national origin, religion, disability, genetic information, height, weight, marital status or veteran status in employment, educational programs and activities, and admissions.
nmc.edu/non-discrimination