New leader as library approaches move, service expansion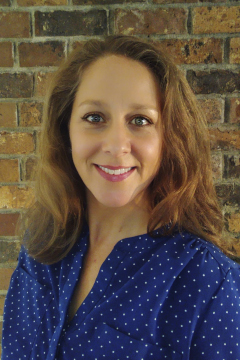 Kerrey Woughter (click for high-resolution version)TRAVERSE CITY — Northwestern Michigan College will approach a move and expansion of its library services under the leadership of new director Kerrey Woughter.
Woughter comes from Traverse City Central High School, where she was the teacher-librarian since 2004. During her tenure with Traverse City Area Public Schools, Woughter was instrumental in developing the Front Street Writers Program, in partnership with the National Writers Series.
Woughter earned her master's degree in library science from Wayne State University in 2002. An educator of more than 20 years, Woughter has high school library and classroom experience, served as adjunct-Communications faculty for Spring Arbor University and provided supplemental reference library services at NMC from 2009-13.
One of Woughter's first tasks will be planning the library's move from the Osterlin Building to the Timothy J. Nelson Innovation Center, set for early 2020. In the new building, the library will be open 24-7. Woughter succeeds Tina Ulrich, who retired.
"I'm looking forward to the move ... and establishing the new library there as the hub for learning on campus," said Woughter. In a changing information landscape, her staff strives to ensure students become savvy consumers of information. "My colleagues at Osterlin are committed to providing excellent learning opportunities to students and to partnering with faculty to enrich their curriculum and ours."
Northwestern Michigan College has had a library since the college was founded in 1951. The mission of the Osterlin Library is to provide timely access to recorded information; to meet the needs of the curricular and service programs of the college; to teach library and information skills for lifelong learning; to stimulate and support the faculty in improving teaching and learning; and, insofar as possible, to share resources with those outside the college.
Release date: September 16, 2019
For more information:
Kerrey Woughter
Director of Library Services
(231) 995-1063
kwoughter@nmc.edu
NON-DISCRIMINATION POLICY NOTICE
Northwestern Michigan College is committed to a policy of equal opportunity for all persons and does not unlawfully discriminate on the basis of race, color, national origin, religion, disability, genetic information, height, weight, marital status or veteran status in employment, educational programs and activities, and admissions.
nmc.edu/non-discrimination