NMC Board of Trustees identifies Nick Nissley as first choice in presidential search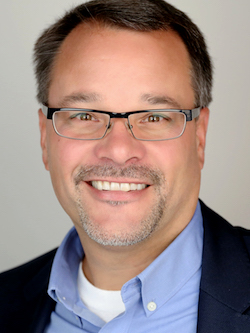 TRAVERSE CITY — The Northwestern Michigan College (NMC) Board of Trustees voted 4-3 to advance Dr. Nick Nissley as the first choice of five finalists to become the next president of NMC at a special board meeting Tuesday, September 3. The Board then unanimously voted to support Dr. Nissley in his role as president, if he accepts the position.
The Board will now extend an offer and begin discussions on a contract with Dr. Nissley. The contract will be submitted to and voted on by the Board. A formal announcement on the new president is expected within the month, with an expected start date of January 1, 2020.
NMC Board Chair Chris Bott said, "The Board is pleased to move forward with Dr. Nissley. He brings strong communication skills and proven experience in leadership and innovation. This process to identify the next leader of NMC has been competitive, thorough and transparent as the board's most important job. We appreciate the dedication of the presidential search committee, employees and community members who participated in this process to identify the next leader of our community's college."
Nick Nissley, Ed. D. is an education executive with more than 25 years of experience including K-12, community college and university settings. He is currently Executive Director at the School for Creative and Performing Arts in Cincinnati, OH. Dr. Nissley has leadership experience in fundraising, professional development, human resources, teaching and the arts. His areas of focus include helping build individual and organization capabilities that support organizational effectiveness and innovation cultures in support of educational excellence. Dr. Nissley describes himself as a collaborative servant leader and "possibilitarian."
A total of 67 people applied for the position. Presidential search firm The Pauly Group reviewed the applicants to ensure all met the minimum criteria for the job. The Pauly group recommended 20 candidates to the presidential search committee. That committee narrowed the list to eight candidates for video interviews. The committee recommended five finalists for in-person interviews which included campus and community forums open to the public.
This is the culmination of work since Nov. 1, 2018, when president Timothy J. Nelson announced his intention to retire on Dec. 31, 2019.
"The board, this college and this community will be forever grateful for the service of Tim Nelson during his nearly 19 year tenure. We were not seeking to, nor could we replicate president Nelson who did incredible work to build this college into what it is today," said Chairman Bott. "We are now looking for the person who would be the right fit to lead this institution into the future. Each candidate has their own unique strengths. Ultimately the decision came down to who was the best fit at this time."
Release Date: September 3, 2019
For More Information:
Diana Fairbanks
Executive Director of Public Relations, Marketing and Communications
dfairbanks@nmc.edu(231) 995-1019
NON-DISCRIMINATION POLICY NOTICE
Northwestern Michigan College is committed to a policy of equal opportunity for all persons and does not unlawfully discriminate on the basis of race, color, national origin, religion, disability, genetic information, height, weight, marital status or veteran status in employment, educational programs and activities, and admissions.
nmc.edu/non-discrimination