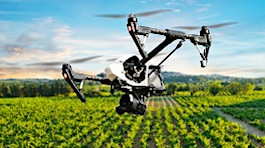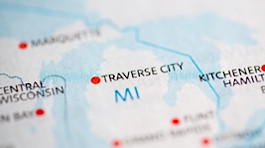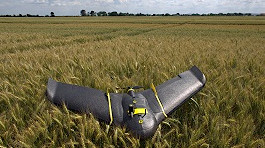 UAS in Agriculture Training Details
This MSU Institute of Agricultural Technology course is conducted in partnership with Northwestern Michigan College (NMC). NMC has been training students on drones for over 10 years and is one of the premier drone training programs in the country. Their staff, facilities, and equipment rival that of larger universities. As such, when MSU IAT decided it was time to bring drones into their Agricultural Training Program, it made sense to partner with NMC.
---
This 3-Credit course is divided into two parts:
Part 1 – Commercial Drone Pilot Certification
This 5 day portion of the training is in person at NMC and will prepare you to become a certified commercial drone pilot. In order to operate a drone for commercial purposes the Federal Aviation Administration (FAA) requires that all operators pass a written test and receive a license. At the completion of this part of the training, students will take the FAA Written Test and become a commercial drone operator.
Part 2 – UAS Flight Experience Training
IAT students will participate in an intensive, 5-day training course for UAS applications in agriculture at NMC. Students will be trained on a variety of drone platforms that are currently being used in agriculture for a variety of missions. This also includes understanding the sensor technology used to provide growers with usable data. Students will conduct flights, collect aerial imagery, analyze data, and create maps with fixed wing and multi-rotor UAS. Training will include operation of DJI aircraft, the SenseFly eBee, and the DJI Agras MG-1 Octo-Copter (agricultural sprayer). Along with daily flights and missions, students will process and analyze data collected to determine potential agricultural applications for UAS. Flights will be conducted over multiple agricultural commodities (orchards, grapes, hops, corn, soybean, etc.) in NW Michigan.
---
Pricing Information
In addition to the 3 credits of tuition, participants will be required to pay an additional course fee. The course fee includes equipment usage for the training ($206) and, if you chose to have lodging provided, an additional ($360) is required — lodging fees are based on double occupancy.
Total Course Fee WITH lodging is $566
Total Course Fee WITHOUT lodging is $206
---
Requirements & Eligibility
Must be a current MSU student, MSU IAT student, or be enrolled as an MSU Lifelong Education student
Must submit completed UAS in Agriculture Training application form
Students must complete both parts of the training program
Students must pass the FAA Remote Pilot Written Test (Drone Certification)
Requires enrollment in 3 MSU credits
---
For more information, contact UAS Program Coordinator Tony Sauerbrey at (231) 995-2925 or tsauerbrey@nmc.edu.