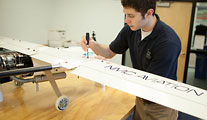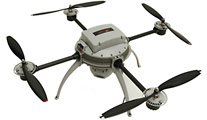 Unmanned Aerial Systems
UAS Training Center At NMC
NMC is one of only a handful of colleges in the country to specialize in Unmanned Aerial System (UAS) operations. More commonly called drones, unmanned aircraft represent a sector of aviation that is experiencing exponential growth and NMC has developed a premier training program to provide a gateway for college students and industry professionals to receive UAS training and begin operating in the UAS industry.
Current Status Of UAS In America
The world of automation is changing fast! The UAS (Drone) Industry is moving even faster. In 2016 the FAA passed legislation allowing for the commercial use of these systems. It is now possible to get a Remote Pilot Certificate issued by the FAA to legally work as a commercial drone operator. This change in the regulations has allowed the industry to really start taking off. New uses and applications for drones are taking shape everyday as this new technology advances at a record pace. Applications like structure inspections, mapping and land survey, aerial photography and movie making, crop monitoring, and even crop dusting are now being conducted via drones. Companies like Amazon and Google are spending lots of time and energy advancing drone technology. Someday soon even packages will be delivered by drones. And things are just getting started.
Training For The Future
NMCs UAS program was developed to support this growing industry. If you love new technology, robotics and automation, then you will love working with Unmanned Aerial Systems. AT NMC you will receive training not to just get your drone license, but to gain hands-on experience working with some of the latest systems. At NMC, we focus on training for the application not just the drone. A professional drone operator doesn't just fly an aircraft, they collect needed information that the customer wants. Learn things like aerial survey work, how to monitor crops, and how to conduct aerial inspections. Of course all that wouldn't mean a thing if you didn't have the hands-on experience needed to keep your aircraft in the air. At NMC you get more than just simulator training, you get hands-on experience in the field operating and maintaining the complex systems you are using. Because when you are operating in the real world you can't just call time out and call in the maintenance team. With Unmanned Systems, you are the maintenance team.
UAS Training Focus
Getting certified as a Commercial UAS (Drone) Operator
Building and tuning multi-rotor aircraft
Training on a variety of systems ranging in technology from basic to advanced commercial-grade equipment
Learning about the current UAS industry and where it's going
Applying rules and regulations to operate as a commercial operator
Learning about current and future UAS technology
Frequent and regular hands-on training in the field with UAS equipment
Learning how to be marketable to the UAS industry
UAS Course Descriptions
NMC tests new autopilot
NMC's Penguin B uses Cloud Cap's Piccolo SL autopilot, allowing students to get hands-on experience with high-grade components used by industry leaders and potential employers.
Specialized NMC UAS degree program
NMC's Engineering Technology degree gives students the technical training they need to begin a successful career in the developing UAS industry, including electrical systems, hydraulics, robotics. programming design, GIS and more. Check out this exciting degree option »
NMC aviation gets Aeryon Scout
NMC Aviation recently acquired an Aeryon Scout micro-UAV quadcopter. The Scout is a professional grade aerial photography and video platform capable of stabilized flight in 30 mph winds. See the Scout in action doing research work for the University of Alaska-Fairbanks »
Find out what's new in the UAS world
The Association of Unmanned Vehicle Systems International is a great source of news about the industry. Visit AUVSI.org »
Look for UAS jobs
Visit AUVSI's Career Center to see what types of jobs are being advertised today. Visit the AUVSI Career Center »
More UAS industry news and resources
News about UAS activity in different states, jobs information, trends and other resources. Check it out »
The birth of construction drones?
UAVs demonstrate capability to weave cord to build structures opening up a realm of possibilities for future construction methods. Watch the video »
Court ruling may spur FAA to issue UAS rules
A recent court case regarding commercial use of small UAVs has the FAA backpedaling and drone entrepreneurs chomping at the bit. Learn more »
Commercial UAS uses dwarf military applications
As is the case with many technologies developed for use by the military (like GPS), there is vast array of civilian commercial uses for unmanned aircraft. Learn more »
NMC's drone training readies students for exploding market
NMC's unmanned aerial systems courses prepare students for a job market that is poised to explode with opportunity. Learn more »
New 'Drone Studies' Major Has Graduates Starting At $120,000 A Year
Opportunities abound flying drones for defense contractors. Read more »
Thousands Of UAVs Could Fill U.S. Skies In The Next Five Years
Industry experts predict 30,000 UAV's will be flying in the U.S. by the end of the decade as technology leads to smaller, cheaper and more sophisticated drones. Read more »