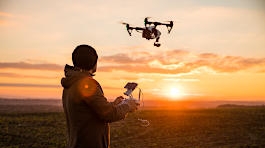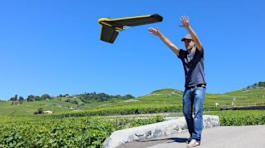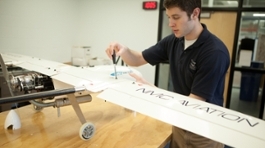 Uncrewed Aerial Systems Training
Northwestern Michigan College has created a unique training center that specializes in Uncrewed Aerial Systems (UAS). Here you can earn a degree, complete a certificate program, or just get specialized training. You can choose your own adventure.
---
FAA Approved UAS-CTI School
NMC has been approved by the Federal Aviation Administration as part of the UAS College Training Initiative program. So what does this mean? It means NMC offers training that goes above and beyond many of the smaller UAS training schools. NMC has a robust curriculum that is a total solution for preparing people to enter the UAS industry. It is a focused program with technical hands on training and an impressive fleet of aircraft along with an instructional staff with years of experience in the industry.
---
Associate Degree
Our two-year Associate Degree will prepare you for the UAS industry. If you are looking for specialized collegiate training, then look no further. You can get college credit doing something you're passionate about. Our Associate of Applied Science degree is in Engineering Technology with UAS Specialization. It is a hands-on technical degree that will prepare you for the future!
---
UAS Certificate Program
Not everyone needs a degree to take advantage of drone technology. Our certificate program allows a person to focus only on UAS training and still qualify for financial aid. If you already have a degree or other professional experience and just need to add drone training to your abilities, then this certificate program is for you.
---
UAS Training Focus
Certification as a Commercial UAS (Drone) Operator
Training on a variety of systems from basic to advanced commercial-grade UAS equipment
Learn how to use drones for specific uses in the industry such as:

Aerial Photography
Mapping and land survey
Agriculture
Industrial Inspections
Advanced drone operations with long endurance aircraft

Frequent and regular hands-on training in the field with UAS equipment
Learning how to be marketable to the UAS industry
---
Articulation Agreements
Course Sequence Guides
Program Requirements
Faculty & Staff
Tony Sauerbrey — UAS Program Manager
Carl Rocheleau — Chief UAS Instructor
Specialized NMC UAS degree
NMC's Engineering Technology degree gives students the technical training they need for a successful career in the UAS industry, including electrical systems, hydraulics, robotics. programming design, GIS and more. Check out this exciting degree option
UAS Training Fleet
NMC UAS Training Center operates a variety of aircraft — everything from small multi-rotor aircraft that students build to the large catapult-launched UAV Factory Penguin C. Learn more about some of these different aircraft below:
Aerosonde Course
NMC UAS Training Center has a course training students on the Textron Aerosonde! This two-part course includes a ground portion and hands-on flight training. Students completing the course have an excellent chance at working at Textron operating the Aerosonde. Learn more about this amazing aircraft here.
Find out what's new in the UAS world
The Association for Uncrewed Vehicle Systems International (AUVSI) is a great source of industry news. Visit AUVSI.org to learn more.
Look for UAS jobs
Visit AUVSI's Career Center to see what types of jobs are available today. Visit the AUVSI Career Center.
Engineering Technology-UAS Degree
NMC offers an Associate degree in Engineering Technology - UAS. Check out the flyer.