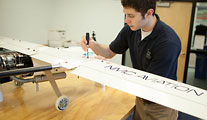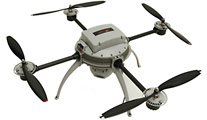 NMC tests new autopilot
NMC outfitted its Penguin B airframe with the Piccolo SL autopilot made by Cloud Cap Technology. Students' hands-on training and experience with this popular industry equipment has been attractive to UAS employers.
Fast fact
Five NMC aviation students were hired into UAS jobs in 2012.
Specialized NMC UAS degree program
NMC offers specialized training for a career in the UAS industry that goes beyond hands-on experience flying small drones. The Engineering Technology degree offers practical, hands-on training in areas critical to your success: electrical systems, hydraulics, robotics. automation, programming design, GIS, programmable logic controllers, computer technology and more. Check out this exciting degree option »
NMC aviation gets Aeryon Scout
NMC Aviation recently acquired an Aeryon Scout micro-UAV quadcopter. The Scout is a professional grade aerial photography and video platform capable of stabilized flight in 30 mph winds. The Scout is a sophisticated battery-powered aircraft capable of day and night operations and beyond-visual range flights. See the Scout in action doing research work for the University of Alaska-Fairbanks »
Find out what's new in the UAS world
The Association of Unmanned Vehicle Systems International is a great source of news about the industry. Visit AUVSI.org »
Look for UAS jobs
Visit AUVSI's Career Center to see what types of jobs are being advertised today. Visit the AUVSI Career Center »
More UAS industry news and resources
News about UAS activity in different states, jobs information, trends and other resources. Check it out »
Commercial UAS uses dwarf military applications
As is the case with many technologies developed for use by the military (like GPS), there is vast array of civilian commercial uses for unmanned aircraft. Learn more »
NMC's drone training readies students for exploding market
With the FAA set to release rule proposals this summer for commercial small UAS flights, NMC's unmanned aerial systems courses help prepare students for a job market that is poised to explode with opportunity. Learn more »
New 'Drone Studies' Major Has Graduates Starting At $120,000 A Year
The fact that the U.S. is training more pilots to fly drones than it is to fly fighters and bombers is nothing new, but the stress those drone operators are under is only growing, and the need for civilian contractors to ease their burden is great. Read more »
Thousands Of UAVs Could Fill U.S. Skies In The Next Five Years
Industry experts predict 30,000 unmanned aerial vehicles, or UAVs, will be flying in the U.S. by the end of the decade. The expansion is driven by technological advances that have made them smaller, more sophisticated and cheaper, and new federal aviation rules that will open the skies to an array of drones in the next few years. Read more »
Flying With The Penguin
The Penguin B unmanned aerial vehicle is the latest addition to NMC's UAS program. Read the sUAS News story »
Unmanned Aerial Systems
NMC is one of the premier colleges in the country for Unmanned Aerial Systems (UAS) operator training. Sometimes called drones, unmanned aircraft represent a sector of aviation that will undergo exponential growth over the coming years. Although many of the jobs available today are with defense contractors, the civilian job market will dwarf the military sector once the FAA opens up US airspace to commercial UAS operations. The potential commercial uses of unmanned systems are enormous, to include remote sensing of the atmosphere, disaster response, weather forecasting, scientific research; agricultural survey of crops, soils, and livestock; crop dusting, wildfire surveillance, wildlife surveys, power line and pipeline survey, industrial security; oil, gas, and mineral exploration; payload transport, search and rescue, and aerial photography for fields like real estate, construction, film and entertainment industry, and accident investigation.
Current status of UAS in America
The FAA has not yet granted permission for commercial operations of unmanned aircraft in US airspace. Last year, Congress ordered the FAA to develop a streamlined process for law enforcement and first responders to obtain permission to fly small unmanned aerial vehicles. In May 2012, the FAA authorized law enforcement and emergency response agencies to operate small UAVs under 4.4 pounds in weight, within line of sight, at altitudes less than 400' and more than 5 miles from any airport under an FAA Certificate of Authorization (COA). After demonstrating proficiency with sUAS operations, the agencies will be granted more freedom to operate plus expanded vehicle size up to 25 pounds. An expedited process was also developed to allow short-notice, one-time COAs for emergency missions. The FAA Reauthorization Act of 2012 requires the FAA to publish rules allowing the integration of UAVs into US airspace by 2015.
UAS operator certification
Many employers in today's UAS job market are requiring regular FAA pilot licenses for the UAS operators, anywhere along the spectrum from private through flight instructor ratings. While we expect that requirement to change as the industry matures, it is clear that a foundation of aviation knowledge is required to operate safely and effectively in the airspace system. Currently, NMC (nor any other institution) cannot offer UAS operator certification, as the FAA has not yet published certification standards for UAS operators. NMC was part of the committee that drafted a set of rules for training and operator standards for the FAA and we expect our program to meet FAA requirements when they are published.
Advice
NMC can offer specialized UAS training, aimed at giving you skills to operate a small (under 55 lbs) UAV for many different types of commercial applications. A basic level of aviation knowledge is strongly encouraged. That level of knowledge can be gained by taking a Private Pilot Ground School course either through NMC or another provider. Additionally, NMC offers an Engineering Technology program specializing in unmanned aerial systems that includes training on electrics, hydraulics, programming basics, and robotics—skills that will help a UAS operator to be more successful in the field.
UAS classes consist of:
Learning to operate and pilot remotely controlled aircraft
Training on a variety of systems ranging in technology from basic to advanced commercial-grade equipment
Learning about the current UAS industry and where it's going
Learning about federal regulations specific to UAS aircraft and operations
Learning about current and future UAS technology
Frequent and regular hands-on training in the field with UAS equipment
Learning how to be marketable to the UAS industry
UAS Course Descriptions