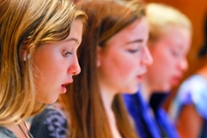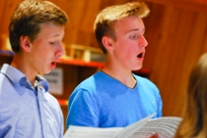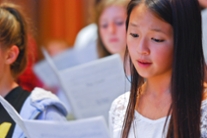 Cantus
Please remember that regular rehearsal attendance is necessary for the success of the individual and the choir. If an absence cannot be avoided because of illness or conflict with a school concert, please notify the Director, as soon as possible, with the specific reason for the absence.
Please be aware that the Children's Choir does not necessarily cancel rehearsals according to area school closings. If rehearsals are cancelled due to weather, you will be notified via e-mail, local TV and radio, and on our website. Cancellations will be posted by 3 p.m. on the day of the rehearsal. The phone number to call to check on cancellations is (231) 995–1718.
UPCOMING important dates
Tuesday, Sept. 9 - first rehearsal!
Sunday, Nov. 23 - PERFORMANCE (3:00 pm, Lars Hockstad)
Saturday & Sunday, Dec. 13 & 14 - PERFORMANCE (7:30 pm & 3:00 pm, Lars Hockstad)
Sunday, Feb. 15 - PERFORMANCE (3:00 pm, Lars Hockstad)
Sunday, March 22 - PERFORMANCE (3:00 pm, Lars Hockstad)
April 8-12 - Cantus Tour to NYC
Saturday, April 18 - PERFORMANCE (7:30 pm, Alpena P.A.C.)
Tuesday, April 21 - Area School Tour