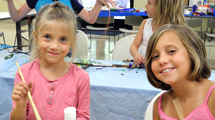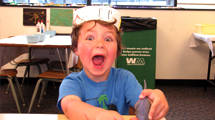 College for Kids
Current Classes
Enrolling is easy
SUMMER PROGRAM
Over 175 courses are offered each summer for ages 3-17. Registration begins in late March.
Get on the mailing list to receive the 2016 schedule of summer classes - email your name and mailing address to ees@nmc.edu 
Summer Reading & Math at-home program (registration begins in February).
Scholarships
Partial financial aid is available for families meeting low-income requirements — call (231) 995-1700 for a scholarship form. Awards typically cover one half the cost of the class.
Help send a child to a class by donating to the College for Kids scholarship fund. Learn more »
Registering for classes
Registration is easy by phone
(231) 995-1700 or toll free
(800) 748-0566, ext. 1700.
Interested in teaching College for Kids classes one or two weeks in Summer 2016?
We are looking for creative and energetic individuals to create and teach unique one-week classes. The program serves children ages 3 to 17; there is particular need for classes for preschool and lower elementary. Please send an email with your contact info, interested age groups, and class ideas to Julie Doyal at jdoyal@nmc.edu anytime November-December, but before January 14, 2016. Course proposals may be accepted after that date as needed.