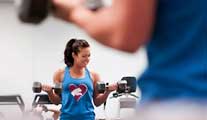 Check out our spring fitness classes to rejuvenate your spirit and body with your friends, family, and neighbors. Register for our fitness classes now.  More »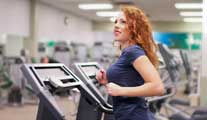 The Fitness Center upgrades including new spin bikes, cardio stations, strengthening machines, and much more. Register for a class now. More »
Enjoy expanded fitness options, from cardio kickboxing to basketball coaching. Check out the many non-credit fitness and recreational classes for fall. More »
MEMBERSHIP RATES
Membership is by semester:
Enjoy unlimited use:
General public: $100 (Fall Term or Spring Term)
General public:  $200 (Annual - Fall/Spring/Summer)
NMC student, adjunct, supplemental; UC student: $50
NMC full-time faculty & staff: $30
Monthly Rates available
Or call (231) 995-1700 
NEW - Personal Trainer option.  50-minute sessions with certified trainer to focus on reaching your goals.  10 sessions for $350 or 6 sessions for $225.  Academic student rates are available.  NMC Fitness Center membership is required.
FITNESS CENTER HOURS
Monday–Thursday: 6 a.m.–8 p.m.
Friday: 6 a.m.–6:30 p.m.
Saturday: 8 a.m.–Noon
Summer Hours 2014
Start Date Posted Soon. 
Monday–Thursday: 7 a.m.–7 p.m.
Friday: 7 a.m.–3:30 p.m.
Saturday:  closed
NMC Fitness Center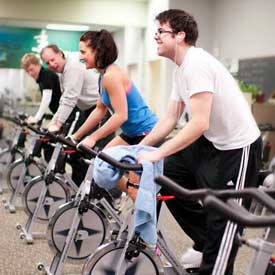 Get fit, stay fit in the newly renovated NMC Fitness Center located on main campus in the Physical Education Building, Room 206. A friendly, well-trained fitness staff is ready to help you reach your fitness goals.
Here's what you'll find:
Cardio stations
13 Life Fitness strengthening machines
Circuit training option
New spin bikes
Dumbbells and strength machines
TVs
A fresh new look
Refreshed locker rooms with showers
Resourceful staff
For more information, call (231) 995-1379.
Find physical education academic course information here »