Recycling Efforts
During the first week of May 2010, the Hagerty Center began an aggressive new recycling program with Bay Area Recycling for Charities (BARC). The recycling efforts will include all types of plastic, paper, metal, batteries and other E-waste. In addition to efforts already in place for cardboard and glass we also have begun providing recycling containers in our conference rooms and registration areas for our clients and guests to use during or after events. The most significant change however will be in the area of recycling organic waste. This includes all of the food refuse as well as soiled napkins and paper, which will be composted at Bay Area Recycling's plant.
In addition to this initiative, the Hagerty Center has aligned its purchasing practices to mirror that of our new recycling endeavor. Portion control items, such as creamers and cream cheese will no longer be used. Plastic straws and stir sticks, along with plastic flatware and other "disposable "items will also be replaced with compostable materials.
The Hagerty Center also has a policy to dispense beverages in volume. For example, we use large beverage containers to serve ice water and coffee and our juice now come in a concentrated one gallon container that will allow us to make six gallons served in measured portions. This cuts down on packaging and waste from individual bottles of water or containers of juice. Last month we switched all of our warewashing chemicals (for the dish machine), to a more eco-friendly product from Ecolab. Not only are the chemicals more environmentally friendly but the product is packaged in a way that significantly reduces waste materials. Our new warewashing program also reduces the number of racks run through the dish machine and, therefore the amount of water and energy being used.
In the future we will also be working with the Michigan Recycling Coalition and the Green Venues Michigan program through the State of Michigan Bureau of Energy Systems, both of which have certification programs. This will help us further our "greening" of the Hagerty Center by instituting written policies governing waste reduction and advancing water conservation.
While it may be impossible to be completely waste free (at least in the near future), our goal is to run the Hagerty Center with a 90-percent reduction in waste that we were producing as of April 2010. With the initiatives that we are undertaking we would ultimately like to be an example to other departments within NMC, as well as other Hospitality operations in the Grand Traverse Region. This would align with NMC's stated mission and vision as being an asset to the local community.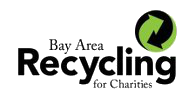 Bay Area Recycling for Charities (BARC) is a Traverse City, Michigan-based non-profit company providing comprehensive recycling services to residents and businesses in the Grand Traverse Bay area. Find out more here »
Green Tips
Looking for ideas to help reduce your carbon footprint? Here is a list of suggestions to help make your event a little more "Green."