Careers and Internships
Internships
Join professionals in water-related fields and build your skills and your resume: manage fisheries and wildlife, engage in research projects, contribute to water quality monitoring in inland lakes, streams and rivers, participate in beach monitoring activities and more....
NMC and the Escuela de Agronomía para la Región Trópical Húmeda (EARTH) have a well-established academic agreement to advance water studies in Costa Rica in a short-term study abroad experience.
"An internship at EARTH University in Costa Rica will expand your horizon and transform you in meaningful ways…" says Constanza Hazelwood, Freshwater Studies program coordinator. Learn more about this experience here.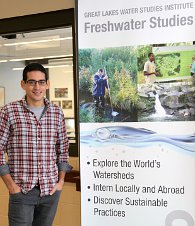 Ryan RoseroRyan Rosero, Freshwater Studies student and Michigan State graduate said: "My time abroad helped me realize the potential for renewable energy in developing countries while falling in love with the language and Latin American culture in general."
Contact:
Constanza Hazelwood PhD, Freshwater Studies Program Coordinator
Phone: (231) 995-1722
Email: chazelwood@nmc.edu
Office: Great Lakes GL112D ML
or
Jim Bensley, International Services and Service Learning Director
Phone: (231) 995-2527
Email: jbensley@nmc.edu
Office: Scholars Hall SH29-ML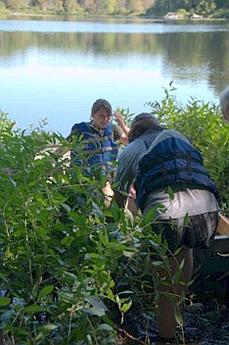 A win-win NMC partnership with the Oleson Foundation, the Long Lake Association, the Long Lake Foundation, Long Lake Township and the Great Lakes Environmental Center provides real world-training in inland lake water quality monitoring. Interns learn how to calibrate and deploy water quality monitoring equipment, collect data and report results to a local stakeholder group of inland lake home-owners.
For more information contact:
Constanza Hazelwood PhD, Freshwater Studies Program Coordinator
Phone: (231) 995-1722
Email: chazelwood@nmc.edu
Office: Great Lakes GL112D ML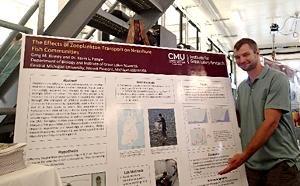 The CMU Biological Station in Beaver Island is the site for unique opportunities to work on research projects with CMU faculty for a duration of 10 weeks.
Interns in this program have advanced studies on zooplankton and its effects on fishing communities, wetlands and carbon sequestration, and algae blooms and their effects on macroinvertebrate populations in the Great Lakes.
Additional Internship And Volunteering Opportunities
Select an internship opportunity locally or overseas to explore multiple career pathways in water-related fields. Organizations that have either accepted students in internships or expressed interest in enrolling volunteers are listed below. Students should discuss details with a Freshwater Studies advisor prior to contacting the organization.

Big Jon Sports – The mission of Big Jon® is to provide sport fishermen around the world with the best built and most innovative fishing products. At their production plant in Interlochen, Michigan, their skilled craftsmen use the latest CNC technology to turn Aircraft Grade Aluminum into the finest trolling products on the market. More information

Conservation Resource Alliance – A private, not-for-profit organization in Traverse City, the Conservation Resource Alliance serves a 13-county area. Interns work with wildlife and fisheries biologists, engineers and field technicians on various programs such as RiverCare and WildLink with the goal of maintaining the beauty and value of northern Michigan habitats.
Grand Traverse Regional Land Conservancy – The Grand Traverse Regional Land Conservancy is a 501 (c) 3 non-profit organization whose mission is to protect significant natural, scenic, and farm lands, and advance stewardship, now and for future generations. Service area includes Antrim, Benzie, Grand Traverse, Kalkaska and Manistee Counties.
Grass River Natural Area – Located in Antrim County, the Grass River Natural Area (GRNA) is a haven for plant and animal life on the Chain of Lakes Waterway.
Lake Leelanau Lake Association – Founded in 1980 and incorporated as a 501(c)3 non-profit organization since 2003, LLLA's mission is to make Lake Leelanau a better place to live and to establish on-going programs to promote and protect the best interest and uses of riparian owners and all other parties who have access to this body of water. Members volunteer to address issues such as swimmers itch, invasive species, wetlands preservation, zoning, water quality, and watercraft safety. Their list of water quality projects could provide opportunities for Freshwater Studies students to complete internships.
​WATER QUALITY

Great Lakes Environmental Center – This engineering firm provides field sampling and monitoring services for the protection and preservation of freshwater resources, the Great Lakes Environmental Center (GLEC) also operates a vibracore sediment sampling boat.
Inland Seas Education Association – The mission of the Inland Seas Education Association (ISEA), a non-profit organization, is to help people of all ages experience the science and spirit of the Great Lakes through shipboard and on-shore programs leading to long-term stewardship of the Great Lakes.

National Park Service – Sleeping Bear Located 450' above Lake Michigan the Sleeping Bear Dunes is comprised of miles of sand beach, forests, lakes, and a variety of plants and animals and provides internship opportunities in water quality analysis.

The Watershed Center – In its advocacy of clean water in Grand Traverse Bay and its watershed, the Watershed Center offers projects and public education, the Watershed Center has brought more than $2.7 million to the region to implement their EPA-approved Grand Traverse Bay Watershed Protection Plan.
​Careers

An online source for information on careers, employers, and the latest job openings in the marine technical field is available thrugh Marine Advanced Technology Education Center (MATE). Research careers by area of interest, along with their educational requirements and salary information. Read the center's Career Profiles to learn about real people working in careers such a marine technicians, fish and game wardens, or hydrographic survey technicians. Learn more about ocean careers here.
Check out some sample careers:
The O*NET program is the nation's primary source of occupational information. Browse the database of occupational groups of careers in several ways: by industry, field of work, science area, specific tools and software. Find and research occupations here.
Explore how the green economy is changing and creating new careers:

Sponsored by the U. S. Department of Labor, Employment and Training Administration, CareerOneStop makes it easy to explore careers and occupations, perform self-assessment, and find out about education and training requirements. Find careers and career information here.
Support Services
Are you unsure about your career direction? NMC provides a number of services to help you land a job as well as helpful links to employment resources:
On this page:

Unique Internship For NMC Students
Students in NMC's Freshwater Studies, Aviation and Plant Science programs are shown after having just returned from their internship experience in Costa Rica. It was the fifth trip to work with professionals at EARTH University. Read about their efforts to study environmental problems using watershed science and Unmanned Aerial Systems (UAS) to examine EARTH University's banana plantation and the fungus that threatens banana production around the world.