Careers and Internships
NMC Advising Center
NMC provides a number of services to help you land a job as well as helpful links for employment resources. A free career planning resources called MyPlan provides assessment of your skills and interests and matches them with career suggestions. Visit the NMC Advising Center to see up an appointment with an advisor.
Freshwater Studies Internships
Freshwater Studies students gain firsthand understanding of global water resources and management through applied learning experiences that integrate academics with professional work experience with NMC, our university and community partners, and selected sites in Central and South America.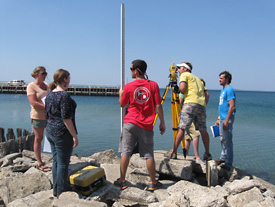 Hydrographic Surveying – This signature internship opportunity, delivered by NMC, is a comprehensive educational experience in marine technology and acoustics that creates skill sets that are in high demand. Students have the unique opportunity for hands-on training aboard the research vessel The Northwestern using hydrographic survey technology. Advanced hydrographic surveys of both east and west arms of Grand Traverse Bay and northern Lake Michigan are providing updated information with multiple applications, including environmental impact assessments, commercial navigation charts and supporting fisheries.

Costa Rica - EARTH University – The second signature internship for Freshwater Studies students is with Costa Rica, Escuela de Agronomía para la Región Trópical Húmeda, also known as EARTH University. Technical content delivered in Spanish provides faculty, staff and students the opportunity to study and research water management and the similarities between saltwater and freshwater, as well as environmental sustainability and the role communities play in these efforts. More information »
NMC Freshwater Studies students Mara Penfil and Miriam Owsley presented a lecture on their 2013 internship in environmental management in Costa Rica. They, along with fellow NMC student Samantha Padgett, traveled to Costa Rica in May to EARTH University for the internship, and where they could interact with other students from around the world.
​ADDITIONAL INTERNSHIP OPPORTUNITIES
Freshwater Studies students are placed in a work-related setting with a water resource focus to complete ENV 290. Organizations that have either accepted students in internships or expressed interest in doing so are listed below. Students should discuss details with a Freshwater Studies advisor prior to contacting the organization.
​ENVIRONMENTAL EDUCATION AND MANAGEMENT

Big Jon Sports – The mission of Big Jon® is to provide sport fishermen around the world with the best built and most innovative fishing products. At their production plant in Interlochen, Michigan, their skilled craftsmen use the latest CNC technology to turn Aircraft Grade Aluminum into the finest trolling products on the market. More information »

Conservation Resource Alliance – A private, not-for-profit organization in Traverse City, the Conservation Resource Alliance serves a 13-county area. Interns work with wildlife and fisheries biologists, engineers and field technicians on various programs such as RiverCare and WildLink with the goal of maintaining the beauty and value of northern Michigan habitats. More information »
Grand Traverse Land Conservancy – The Grand Traverse Land Conservancy is a 501 (c) 3 non-profit organization whose mission is to protect significant natural, scenic, and farm lands, and advance stewardship, now and for future generations. Service area includes Antrim, Benzie, Grand Traverse, Kalkaska and Manistee Counties. More information »
Grass River Natural Area – Located in Antrim County, the Grass River Natural Area (GRNA) is a haven for plant and animal life on the Chain of Lakes Waterway. More information »
Lake Leelanau Lake Association – Founded in 1980 and incorporated as a 501(c)3 non-profit organization since 2003, LLLA's mission is to make Lake Leelanau a better place to live and to establish on-going programs to promote and protect the best interest and uses of riparian owners and all other parties who have access to this body of water. Members volunteer to address issues such as swimmers itch, invasive species, wetlands preservation, zoning, water quality, and watercraft safety. Their list of water quality projects could provide opportunities for Freshwater Studies students to complete internships.
​WATER QUALITY

Great Lakes Environmental Center – This engineering firm provides field sampling and monitoring services for the protection and preservation of freshwater resources, the Great Lakes Environmental Center (GLEC) also operates a vibracore sediment sampling boat. More information »
Inland Seas Education Association – The mission of the Inland Seas Education Association (ISEA), a non-profit organization, is to help people of all ages experience the science and spirit of the Great Lakes through shipboard and on-shore programs leading to long-term stewardship of the Great Lakes. More information »

National Park Service – Sleeping Bear Located 450' above Lake Michigan the Sleeping Bear Dunes is comprised of miles of sand beach, forests, lakes, and a variety of plants and animals and provides internship opportunities in water quality analysis. More information »

The Watershed Center – In its advocacy of clean water in Grand Traverse Bay and its watershed, the Watershed Center offers projects and public education, the Watershed Center has brought more than $2.7 million to the region to implement their EPA-approved Grand Traverse Bay Watershed Protection Plan. More information »
​Careers

An online source for information on careers, employers, and the latest job openings in the marine technical field is available at Marine Advanced Technology Education Center (MATE). Research careers by area of interest, along with their educational requirements and salary information. Read the center's Career Profiles to learn about real people working in careers such a marine technicians, fish and game wardens, or hydrographic survey technicians. More information »
Check out some sample careers:
The O*NET program is the nation's primary source of occupational information. Browse the database of occupational groups of careers in several ways: by industry, field of work, science area, specific tools and software. More information »
Explore how the green economy is changing and creating new careers:

Sponsored by the U. S. Department of Labor, Employment and Training Administration, CareerOneStop makes it easy to explore careers and occupations, perform self-assessment, and find out about education and training requirements. More information »
On this page:

UNIQUE INTERNSHIP FOR NMC STUDENTS »
Students in NMC's Freshwater Studies, Aviation and Plant Science programs have just returned from their internship experience in Costa Rica. It was the fifth trip to work with professionals at EARTH University. Read about their efforts to study environmental problems using watershed science and Unmanned Aerial Systems (UAS) to examine EARTH University's banana plantation and the fungus that threatens banana production around the world.