Exploring Costa Rica
Internship offers close look at 'environmentally progressive' university campus, community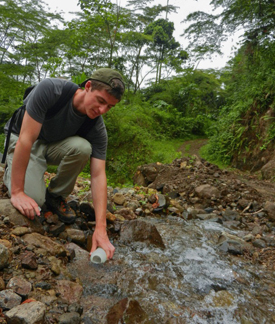 Travis Miller's interest in water began early on, during childhood when he would walk the several blocks from his Traverse City home to a nearby beach. He couldn't have imagined then, however, that this same stretch of shoreline would one day be where he'd find himself studying water — both freshwater and saltwater, thanks to an internship overseas.
Miller, who is enrolled in NMC's Freshwater Studies program, was among eight students who spent two weeks in Costa Rica in the summer of 2012 to learn not only about water management and the similarities between saltwater and freshwater, but also environmental sustainability and the role communities play in these efforts. The students — five are enrolled in the Freshwater Studies program while three are studying at U-M or MSU — spent the internship at Escuela de Agronomía para la Región Trópical Húmeda, also known as EARTH University.
The university, which has campuses in Guanacaste and Guácimo, focuses on both entrepreneurship and agriculture.
"It was interesting to see how the university taught water management and environmental sustainability," Miller said. "It's just interesting to see how they're teaching their students to be prepared for the real world by supporting them in becoming responsible business leaders. That's going to be a an important part of all our educations — being a business person and also a person who cares about sustainability and the environment."
Better understanding how economy, society and the environment are intertwined was behind the Costa Rica internship, said Constanza Hazelwood, coordinator of NMC's Great Lakes Water Studies Institute, who traveled with the students.
"It was a wonderful way to connect different lifestyles, different economic activities that have an impact on the environment and how the environment has an impact on the people," Hazelwood said.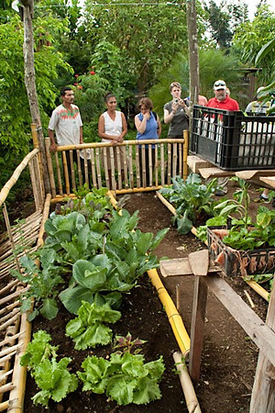 Freshwater Studies student Martha Aguilera said she was inspired by Costa Rica's environmental progressiveness, particularly on the university campuses. Students learned about waste management on the campus and how it's used for energy for the cafeteria, for campus farm animals, even irrigating the greenhouse.
"One thing I found there at EARTH University is everything comes full circle — everything they use they re-use again and again. What they grow, they eat, and then it goes back into the ground … It's the most amazing thing I've ever seen," said Aguilera, 33, who decided to start a second career in freshwater studies after holding a position with the Department of Homeland Security for two years. "There's just so much to learn down there. They have a lot to teach us."
The Michigan students were impressed with EARTH students' community involvement.
"A large part of the EARTH program is community involvement — they work on community farms and schools and even live with small families during their second year," Miller said. "As a community college, NMC students have a similar opportunity to connect to the community; several of our water studies classes involve field trips, tours, and meetings with leaders in the field. We should investigate more ways to spend time in the community because, as we saw at EARTH university, that's where you get a real understanding of the important issues."
Other highlights of the 2012 internship, which took place May 29–June 12:
The trip purposely coincided with EARTH's annual student fair, an event that attracts some 10,000 people, Hazelwood said. The Feria América Tropical at EARTH University consists of students displaying their year-end projects — a business plan of sorts — that often go on to become viable local businesses with help from loans given out by the university. The event includes music, food and dance from 27 different countries. "The take-home lesson for us was, let's help the students come up with ideas and support innovation," Hazelwood said.
Internship participants helped build a biodigester — a tool to convert waste into energy — and then installed it on a local farmer's property in La Florita. The students did this using $150 in materials, and it took about four hours to build it. "The farmer was given a piece of land by the government, and he and his family got electricity six months ago," Hazelwood said. "But they didn't have gas, so with the biodigester, he can heat his food every day and he doesn't spend a penny." Digging a trench for the biodigester was probably the hardest part, Aguilera said. "The materials we used (to build the biodigester) were simple household items you could find anywhere," she said. "We used 5-gallon paint buckets, which were empty and cleaned out, we used inner tubes for bicycles, basic one-dollar plumbing equipment…. I expected it to be something complicated, but it was amazingly easy."
A visit to a local beach — Playa Ostional — allowed the students to learn about the controversial practice of harvesting Olive Ridley Sea Turtle eggs. While environmentalists are against this activity — the eggs are sold at market for food and for use in drinks — plenty of others find it acceptable because they believe the eggs wouldn't all survive anyway. "It is a controversial topic that we had the chance to discuss among ourselves," Hazelwood said.
Students held water quality workshops with the community, including demonstrating the watershed model and how what happens at the top of the watershed would affect those living and working at the bottom of the watershed. They also gave presentations in Spanish about northern Michigan and its assets.
Students shared their experiences on blogs they created specifically for the trip. They were asked to write their posts in Spanish; some students already are fluent in the language while others were introduced to Spanish during a pre-internship Spanish "boot camp" as well as throughout their time in Costa Rica.
The Costa Rica experience fired up the students to want do more for the environment and community back home, Miller said.
"We came away with more energy to go out and do these things, and to see how they could apply in Traverse City or Michigan or the U.S.," he said. "We were just inspired by what they were doing. They motivate us to keep researching and looking out for new ideas."
Hazelwood said after the 2012 trip that she hoped to take another group to Costa Rica in the future.
"We look very carefully at different places, and strongly believe this is a very good fit for us," Hazelwood said. "Even though there are other places we want to visit, Costa Rica offers a lot of advantages. There will be exchange programs with students and faculty and staff, too."