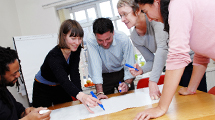 Promote positive group interactions and productivity with our assistance.  More »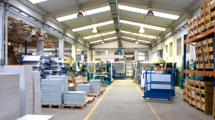 Shorten lead time, improve product quality and boost customer service satisfaction through your Lean journey.  More »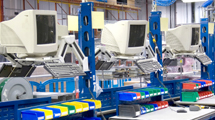 We can help your business with technical skills and continuous quality improvement, among other needs.  More »
NMC Training Services
Customer-focused solutions, active learning model training, on- and off-site delivery — this is what you can expect from NMC's Training Services. We help you gain a clearer understanding of your own processes and create an improvement plan developed through a facilitated event at your facility.
Northern Michigan Lean Learning Consortium
The Northern Michigan Lean Learning Consortium is a member-based support network for those pursuing Lean with resources and support from NMC, the Michigan Manufacturing Technology Center, and other partners. Members benefits include access to monthly events including Best Practice Tours, Learning Events, and Gemba Tours. Learn More »
Michigan Manufacturing Technology Center
Northwestern Michigan College hosts the regional office of the Michigan Manufacturing Technology Center (MMTC-NL). The center is part of the nationwide Manufacturing Extension Partnership program under the National Institute for Science and Technology. In 2011 the MMTC-NL assisted Northern Michigan manufacturers in generating more than $5 million in new sales; and over $2.1 million in retained sales. Learn More »
Training Quick Links
UpNorthLive: NMC hosts first National Manufacturing Day event
Networks Northwest: Manufacturing Day helps students explore options
TC New Tech group hosts manufacturers
Monthly meetups attract growing numbers
TRAVERSE CITY — The crowd at last week's TC New Tech gathering represented a broad swath of Traverse City's business population. There were retirees and relative youngsters, business suits and cargo shorts, curls and shaved heads, cardigans and flannel shirts, baseball caps and beanies.
About 150 people clattered down the stairs into the Ecco Event Space, 121 E. Front St., to learn about the local intersection of technology and industry. It was the largest crowd so far for the group that began meeting monthly nearly two years ago. The meetups are free and open to the public.
November presenters included Kennith Scott of Bay Motor Products, Corey Geer of the Grand Traverse Area Manufacturing Council, Mike Groleau of RJG, Cameron Fuller of Clark Manufacturing, Northwestern Michigan College President Tim Nelson and representatives from AutoDesk, Inc., and ANSYS, Inc.
The local meetups are the brainchild of geologist Russell Schindler. Schindler runs a local company, sampleserve.com, that collects and analyzes groundwater and surface water samples.
"Years ago, we started taking that data from environmental samples, and started putting it into the cloud," Schindler said. "Then we allow clients to access it."
The company expanded the scope of services it offered, and that led to the need for better ways to store and display data.
"It was hard to find programmers," Schindler said.
He heard about the Ann Arbor New Tech Meetup group, and started attending its monthly meetings as part of his effort to find coders. He ran into two people from Traverse City while at those Ann Arbor meetings — and had the idea to duplicate the meetup formula back home in Traverse City. The Ann Arbor group gave him its blessing.
"I literally took the model of the A2 New Tech meeting and copied the format," said Schindler.
The meetings aim to connect people with coding skills to people or businesses that require those skills, for either contract work or full-time employment. Each meeting includes a roster of presenters who each take five minutes to explain an idea, tout their skills or explain their coding needs.
Schindler originally envisioned a group that might total 30 or 40 people. The September meeting attracted 120. Two weeks ago, the number of people who have signed up to stay in touch with TC New Tech topped 500.
The November meeting packed the Ecco Event Space. That meeting specifically was targeted to include local manufacturers. It aimed to allow local industrial companies to explain their needs to the crowd of tech-interested attendees.
"Sometimes they're just looking for talent, sometimes just beta testers," Schindler said of the companies that typically present at the monthly meetings.
The group's next meetup is scheduled for Dec. 6. Visit tcnewtech.org for details or to watch videos of past presentations
In the News
TRAVERSE CITY RECORD-EAGLE
March 6, 2016
Proud to Manufacture in Michigan
Michigan Manufacturing Technology Center

Learn about the benefits of joining the Proud to Manufacture in Michigan program and sign up.