Great Lakes ~ Great Chefs Dinner
Friday, October 3, 2014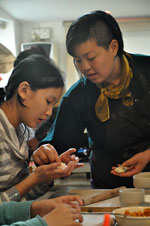 The 2014 version of this special annual event was a unique opportunity to observe Great Lakes Culinary Institute students and instructors learning authentic Chinese cooking techniques from Chef Candice Lee. Lee and the students were joined by Chef Harlan "Pete" Peterson, former owner and chef of the legendary Tapawingo restaurant in Ellsworth.
Lee lived in Beijing from 2006-2013, spending five years at Black Sesame Kitchen, a private kitchen and cooking school located in the heart of Beijing's old district. Along with her time at Black Sesame and recent feature on CBS "Sunday Morning" news/entertainment show, Lee has pursued her love of food by eating her way through her travels in China. She has appeared on MSNBC and Lonely Planet TV, as well as written for Frommer's guide books.
In addition to amazing food and a spectacular view from Lobdell's Teaching Restaurant, guests enjoyed musical entertainment from the Nomads, who preformed intercultural folk music with a positive message about welcoming the ongoing discovery of China to the world. The program included a collection of original songs, written and performed during lead performer Paul Meredith's twenty years in Hong Kong and mainland China. The group also features Chinese-Mongolian artists Jerry Liu and Meng Ke Na Seng. More information about the Nomads can be found here.
Can't wait for the next culinary event?
Sign up for the culinary newsletter to be notified of upcoming events. Sign up »