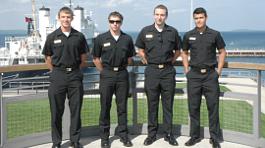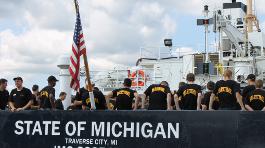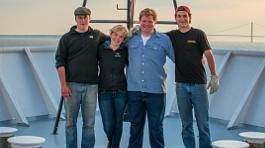 Great Lakes Maritime Academy Information Sessions and Visits
(effective 8/26/20)
Virtual Information Sessions
All prospective students and/or those who wish to learn more about this industry, career, college and application process are encouraged to start here. These virtual general information sessions are offered the first Wednesday of each month at either 1 p.m. or 7 p.m. Eastern time. The presentation lasts about 30 minutes and is followed by a question and answer session. Should you have additional individual/personal questions, we are happy to schedule a follow-up conversation.
Dates for Virtual Information Sessions: November 4, December 2, January 6, February 3, March 3, April 7
To participate, sign up for the sessions through the link below and we will send you a reminder and Zoom link to join:
In-Person Visits/Tours
Fall 2020: We will be scheduling tours for cadets that have completed their application and/or are admitted. When you schedule your visit, we will alert you of any COVID 19 restrictions and protocols in place so you may plan accordingly.
Spring (January) 2021: TBD.
The visit starts at Great Lakes Maritime Academy with a discussion/presentation about programs, curriculums, cadet life, college resources, cadet expectations and career preparation. Following the discussion, a walking tour of the Great Lakes Campus, including the labs, classrooms, simulators, harbor and vessels. Once your individual questions are answered, we will provide you with maps and parking passes for a self-tour of the Northwestern Michigan College campus (about 3/4 mile away). On the NMC "main" campus you may visit general education classrooms, residence halls, the new "Innovation Center" (the cafeteria is also located in this building), the bookstore and more. We require individuals to schedule an appointment prior to making travel plans. 
Contact The admissions office

Primary contact for those with last names A–K:

Scott Fairbank
Director of Maritime Admissions
sfairbank@nmc.edu
(231) 995-1213

Primary contact for those with last names L–Z:

Judy Druskovich
Admissions Specialist
jdruskovich@nmc.edu
(231) 995-1209
Get information on flying to Traverse City, car rentals and hotel accommodations. Learn more (PDF) »
Campus Map
The Great Lakes Maritime Academy is located on NMC's Great Lakes Campus (#5 on the Great Lakes Campus map). The physical address is 715 E. Front St., Traverse City, MI 49686. (Please note, this is NOT the mailing address.)
Custom Directions
For custom driving directions to the Great Lakes Campus from Google, enter your street address, city and state below. (The directions will appear in a new browser window.)