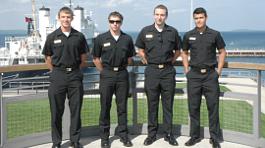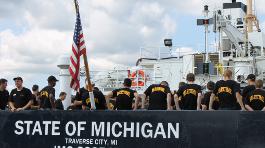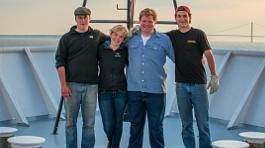 Schedule a Visit / Contact the Admissions Office
Due to the current COVID-19 pandemic, all visits and tours are canceled until further notice. 
Please contact one of the admissions personnel below to find out more.
Great Lakes Maritime Academy visits: The visit consists of a discussion/presentation about the academy (including the application process, career and cadets), a walking tour of the campus (including the ship) followed by group and/or individual meetings. If scheduling permits, the tour will be led by cadets. We require individuals to schedule an appointment prior to making travel plans.
Visit schedule, appointments required:
Canceled for 2020: Annual Open House & Official Visit Day.  Typically the third weekend in April (call for confirmation).
Canceled for 2020: Jan - early May - Most Mondays and Fridays at 9 a.m. or 1 p.m..
Ship visits are unknown at this time: May - August:  The Training Ship State of Michigan is underway on the Great Lakes.  Options are to tour the ship and visit with cadets while they are in a port on the Great Lakes (see ship itinerary) or tour the academy (cadets and ship not present).
Late August through January - Most Mondays and Fridays at 9 a.m. or 1 p.m., call or email for an appointment.
To schedule an appointment, please contact the Maritime Admissions Office:
Contact information

Those with last names A–K, primary contact:

Scott Fairbank

Director of Maritime Admissions
sfairbank@nmc.edu
(231) 995-1213

Those with last names L–Z, primary contact:

Judy Druskovich

Admissions Specialist
jdruskovich@nmc.edu
(231) 995-1209
Get information on flying to Traverse City, car rentals and hotel accommodations. Learn more (PDF) »
Campus Map
The Great Lakes Maritime Academy is located on NMC's Great Lakes Campus (#5 on the Great Lakes Campus map). The physical address is 715 E. Front St., Traverse City, MI 49686. (Please note, this is NOT the mailing address.)
Custom Directions
For custom driving directions to the Great Lakes Campus from Google, enter your street address, city and state below. (The directions will appear in a new browser window.)